Teachers and Volunteers Learn About Agriculture at National Conference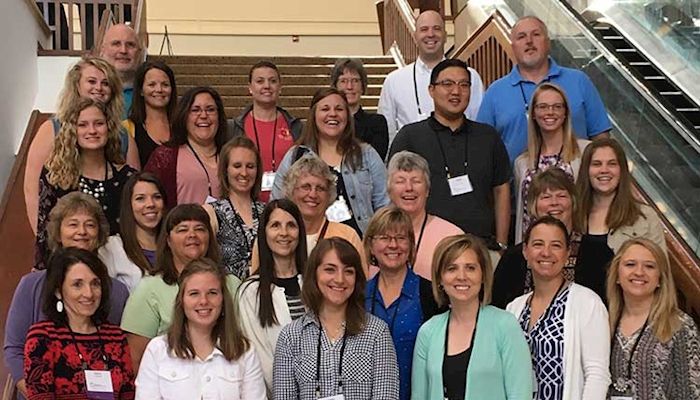 Kansas City, Missouri –June 23, 2017– Thirty-five Iowans wrapped up a week of learning about agriculture at the National Agriculture in the Classroom conference. The conference attracted more than 400 attendees from all across the country – mainly teachers who will integrate agriculture into their classroom curriculum. Using agriculture, teachers can teach science, social studies, language arts, and other subjects. The conference was held in Kansas City, Missouri and included tours to agribusinesses in the greater Kansas City area.
"Professional development and continued learning is a way for teachers to stay current with new material that will help their students," said Iowa Agriculture Literacy Foundation executive director Will Fett. "The conference allows attendees to network with educators from other states, share ideas, and trade best practices for teaching agriculture."
The conference included a variety of keynote speakers including national reporter for AgDay, Tyne Morgan, Greg Peterson of the Peterson Farm Bros YouTube fame, and Dr. Sonny Ramaswamy of the USDA National Institute of Food and Agriculture. Workshops throughout the week showcased hands on educational activities. The purpose was to help teachers use agriculture to set context for their students and make science, social studies, math, reading, and even art concepts relevant. During the conference, Iowa's state teacher award winner, DeEtta Andersen from Center Point-Urbana, was recognized for her exemplary work in integrating agriculture into her high school science classes. Andersen was subsequently awarded as one of eight national award recipients for the 2017 Excellence in Teaching about Agriculture Award, which is sponsored by the USDA-NIFA and Farm Credit Council.
Four Iowa teachers received scholarships to attend the conference and six different sessions were presented by Iowans. The attendees are classroom educators or volunteer educators who help students learn about agriculture. They work with local elementary, middle, and high school students to help enrich classroom learning.
The conference included Missouri and Kansas agriculture traveling workshops of nearby agribusinesses and research facilities to learn about corn by-products, grain production and the beef industry, among other stops. Workshops focused on integrating STEM (science, technology, engineering, and math) concepts as well as language arts and social studies.
The conference is an annual event and will be held next year in Portland, Maine on June 26-29, 2018. The conference is organized and hosted by the National Agriculture in the Classroom Organization that is a non-profit organization that is affiliated with the United States Department of Agriculture. The mission of National Agriculture in the Classroom is to educate K-12 teachers and students about the importance of agriculture by providing them with materials, awards programs and a national conference that demonstrate how agriculture can be used to effectively teach core subject areas.
# # #
About the Iowa Agriculture Literacy Foundation
IALF serves as a central resource for educators and volunteers who want to teach Iowa's students about agriculture. The mission is to educate Iowans, with a focus on youth, regarding the breadth and global significance of agriculture. Iowa is a leading producer of agricultural products that are essential to feed a growing world population, estimated to reach more than 9 billion by 2050. IALF believes it is important for all Iowans to understand the essential role agriculture has in their lives. IALF will support existing agriculture education efforts such as FFA, 4-H and Ag in the Classroom. IALF was created through a joint effort of agricultural stakeholders, including the Iowa Corn Growers Association, Iowa Farm Bureau Federation, Iowa Pork Producers Association, Iowa Soybean Association, Silos and Smokestacks Foundation, DuPont Pioneer, GROWMARK, and the Iowa Beef Industry Council. For more information visit IALF online at IowaAgLiteracy.org, on Facebook, and Twitter.
Source:
Iowa Agriculture Literacy Foundation
Contact:
Will Fett, Executive Director
Iowa Agriculture Literacy Foundation
WFett@IowaAgLiteracy.org
515-331-4182