Teacher Workshop Comes to Council Bluffs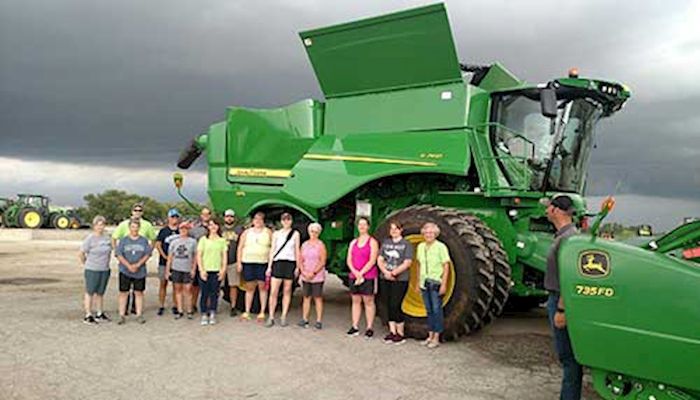 Teachers embark on professional development with a tour through the Loess Hills
Council Bluffs, IA., – July 17 th and 18 th, 2019 – On the morning of July 17 th, in the board rooms of the Council Bluffs Community School District Building, teachers began a two-day workshop that would introduce attendees to agriculture teaching opportunities not too far from the city. Some of the schools represented were Treynor, Tri-Center, and College View in Council Bluffs. After introductions, the group boarded a charter bus and set off on a tour that took months to plan.
The first stop was the Horizon Equipment dealership in Missouri Valley.
Once there, Matt Leonard demonstrated the benefits of technology in agriculture and the group was able to see how precision planting was implemented on farm fields. The tour of the facilities included the service department, and the sales department.
Dunham Bee Farms in Dunlap, Iowa was next on the agenda where Zach Dunham gave a thorough explication about what was involved in keeping bees and producing honey. The teachers were invited to tastes some honey right off of the honeycomb.
"Getting an opportunity to see, first hand, some of the amazing agriculture connections that can be made, right in our own backyards, is an opportunity that I am glad we are bringing to teachers," said Melanie Bruck, education program coordinator for Loess Hills Agriculture in the Classroom.
At Sullivan Supply in Dunlap Matt Burkhart gave a tour of their facilities and reinforced the idea that agriculture, and animal show supplies, is a global industry. The next tour stop was a soil pit where a Natural Resource Conservation Service field technician showed the different types of soil and how colors indicated the presence of different minerals. All soils are made up of a combination of sand, silt, and clay. The Loess Hills were formed as silt particles were deposited during heavy winds.
The last stop of the tour day came to an end at Carsten's 1800 Farmstead outside of Shelby, Iowa. Adam Gittens from HTS Ag Services in Harlan demonstrated drone technology for teachers. Teachers compared the historical aspects of the farmstead to modern agricultural technologies like drones.
On the second day of the workshop teachers learned how to implement what they saw on the tours into their classroom lessons and activities. Presentations included agricultural transportation, embryology, and soil health. Guest speakers included Matt O'Grady from the SIRE ethanol plant, Kelby Vorthmann, an area beef farmer, Adam Sudmann, an area pig farmer, Matt Stuever from Bartlett Grain Company, and Erin Carney from Farm Credit Services of America. The teachers learned how to lead activities with their students like building proper ration for feeding pigs. Teachers walked away with resources and lesson plans as well as access to books and kits from the IALF lending library.
The workshop was hosted by IALF and sponsored in part by Farm Credit Services of America and the BNSF Railway Foundation.
For more information, please visit www.IowaAgLiteracy.org.
# # #
About Loess Hills Agriculture in the Classroom
Loess Hills Agriculture in the Classroom is a regional effort of the Iowa Agriculture Literacy Foundation (IALF) established August of 2018 and has already reached over 5800 students. It serves school districts in five counties in southwest Iowa including Carroll Co., Crawford Co., Harrison Co., Shelby Co., and West Pottawattamie Co. The IALF mission is to educate Iowans, with a focus on youth, regarding the breadth and global significance of agriculture. IALF serves as a central resource for educators and volunteers who want to teach Iowa's students about agriculture. As leading producer of agricultural products, it is important for all Iowans to understand the essential role agriculture has in their lives. The mission of Agriculture in the Classroom is to "increase agricultural literacy through K-12 education." An agriculturally literate person is "one who understands and can communicate the source and value of agriculture as it affects quality of life." AITC programs seek to improve student achievement by applying authentic, agricultural-based content as the context to teach core curriculum concepts in science, social studies, language arts and nutrition. By embedding agriculture into curriculum, AITC cultivates an understanding and appreciation of the food and fiber system that we rely on every day. AITC is unique within the agricultural education community as the lead organization to serve the full spectrum of K-12 formal education. For more information visit IALF online at www.IowaAgLiteracy.org, on Facebook, and Twitter.
Iowa Agriculture Literacy Foundation
Will Fett, Executive Director
Iowa Agriculture Literacy Foundation
WFett@IowaAgLiteracy.org
515-331-4182
7/26/2019