Publication Helps Students Learn Agriculture through Language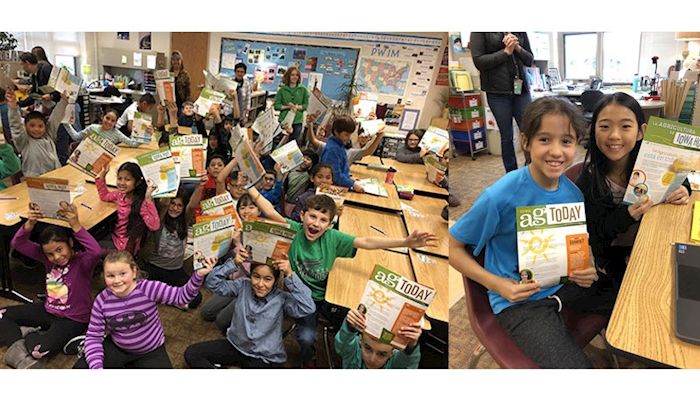 Tyson Foods Grant Helps Support New Student Literacy Project
Storm Lake, Iowa – January 11, 2019 – English Language Learners across Iowa will now have a new tool to learn English in schools. Three of the popular Iowa Ag Today publications have been translated into Spanish and paired with the English versions can help ensure comprehension for native Spanish speakers.
Iowa Ag Today is a student reader magazine targeted to 4 th grade readers. The publication can be used to support classroom curriculum by teaching science, social studies, and language arts in the context of agriculture. Each issue features nonfiction stories, discussion topics, and new vocabulary for students. The publication is paired with a teacher guide, a student worksheet, and a student assessment.
"We aligned the publications to Iowa Core standards so teachers can easily implement them into their classroom activities," said Will Fett, executive director of the Iowa Agriculture Literacy Foundation. "We want students to have fun reading them, but more importantly to walk away with a better understanding of where their food, fiber, and energy comes from."
According to the 2012 Iowa Condition of Education Report, the number of English as a Second Language (ESL) students also known as English Language Learners (ELL) is increasing in public and nonpublic schools. Iowa has experienced a doubling of ELL student enrollment over the past decade and continues to experience steady growth on an annual basis. ELL student enrollment has increased from 11,248 in 2001 to 29,410 in 2018. Of the students enrolled in Iowa schools grades PK-12, 6.1% of students are designated as Limited English Proficient. School districts in Iowa experience very different impacts with as many as 53% of students in some school districts designated as Limited English Proficient. As of 2013, 16,171 Iowa students speak Spanish as their primary language, while the remaining are very linguistically diverse in terms of native language.
The Iowa Ag Today publications focus on important topics for Iowans like food, health, agriculture and environment, plants & animals, and how agriculture affects culture, society and economy. This translated version is designed with ELL students in mind and will provide a needed tool for teachers to utilize while they work with these students. While designed as a language arts tool, the publications are aligned with social studies, science, and 21 st century skills standards that make them versatile.
The Iowa Agriculture Literacy Foundation was a recipient of a grant from Tyson Foods that helped underwrite this project. This investment will help serve the needs of the Storm Lake community where it was debuted at a presentation to 4 th grade classrooms.
"By engaging with students, we hope to show them how important agriculture is in their home state of Iowa," said Fett. "We want to help ensure they have the tools they need to succeed in learning a language or progressing to future career options."
"This project is important to us because we want to see the Storm Lake community continue to thrive," said Lynn Schable, Tyson Foods. "Communication is essential in business and we want to help set these students up to succeed in life."
For more information about the Iowa Ag Today publication please contact the Iowa Agriculture Literacy Foundation at info@iowaagliteracy.org. Digital versions of the publication can be found at www.IowaAgLiteracy.org.
# # #
About the Iowa Agriculture Literacy Foundation
IALF serves as a central resource for educators and volunteers who want to teach Iowa's students about agriculture. The mission is to educate Iowans, with a focus on youth, regarding the breadth and global significance of agriculture. Iowa is a leading producer of agricultural products that are essential to feed a growing world population, estimated to reach more than 9 billion by 2050. IALF believes it is important for all Iowans to understand the essential role agriculture has in their lives. IALF will support existing agriculture education efforts such as FFA, 4-H and Ag in the Classroom. IALF was created through a joint effort of agricultural stakeholders, including the Iowa Corn Growers Association, Iowa Farm Bureau Federation, Iowa Pork Producers Association, Iowa Soybean Association, Silos and Smokestacks Foundation, DuPont Pioneer, GROWMARK, and the Iowa Beef Industry Council. For more information visit IALF online at IowaAgLiteracy.org, on Facebook, and Twitter.
Source:
Iowa Agriculture Literacy Foundation
Contact:
Will Fett, Executive Director
Iowa Agriculture Literacy Foundation
WFett@IowaAgLiteracy.org
515-331-4182
1/11/2019