Osceola Teacher Recognized for Excellence in Teaching about Agriculture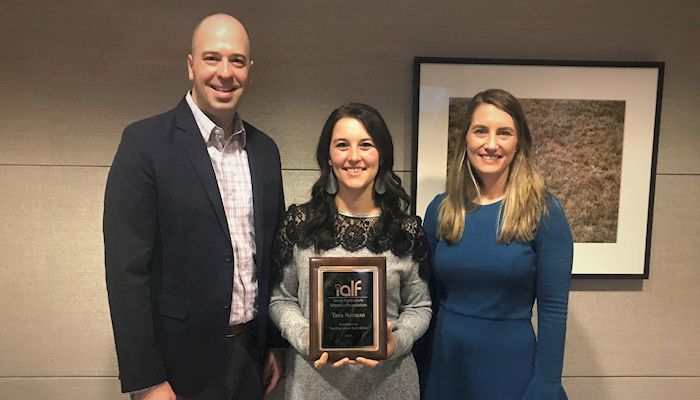 West Des Moines, Iowa – December 12, 2019–Tara Norman, a third-grade teacher from Osceola, Iowa is the recipient of the Iowa Excellence in Teaching about Agriculture award presented by the Iowa Agriculture Literacy Foundation. Norman competed against other elementary, middle, and high school teachers to earn the honor. She was recognized at a ceremony at the Iowa Agriculture Literacy Foundation board of directors meeting held in West Des Moines, Iowa on December 12, 2019.

Norman begins each school year asking students to unpack their school supplies and creates a map of where each product came from. The school supplies spark lessons on how each product is made. Students are often amazed to learn that there are ground cattle hooves in things like glue and soybean polymers in things like the inks in their pens. The cattle by-products and soy by-products all were originally produced on a farm.

"Agriculture is everything in our world," said Norman. "I believe that like reading and math, agriculture is just as important to teach to our students."

Norman also integrates agriculture into her social studies unit aligning with state educational standards. Then compare past agricultural practices like hand planting corn seeds with modern agricultural practices like 48-row planters. The students compare how agriculture has changed over time including farm size, tractor evolution, hand tools, and even robots. She also integrates agriculture into math lessons. Students learned about graphing and used data based on harvest rates, cattle weights, and animal breeds. Students turned the data into various line plots, picture graphs, and bar graphs.

Norman will receive a $500 stipend to support her continued efforts of integrating agriculture into her classroom curriculum. She hopes to expand her teaching efforts with a school garden and/or chicken coop on school grounds. She will also attend the National Agriculture in the Classroom conference to be held in Salt Lake City, Utah in June 2021.

Norman is in her 3rd year of teaching at Clarke Community Elementary School where she has also organized an elementary agriculture club that students in grades 3-6 can participate. She earned her degree from Northwest Missouri State University where she graduated with honors. In her current role she facilitates a life cycles unit for her students completing an egg hatching experiment with her class. The students monitor the daily progress of the chick hatching in their journal. They learn how to candle eggs and they learn about different breeds of chickens. Students create daily videos that are shared wo all elementary teachers and students so the entire school can monitor the process of the 21-day experiment. Once the chicks hatch, the students make daily observations about behavior and changes as the chicks grow. Students take all responsibility for daily care including watering, feeding, and cleaning of the cage.

Brandi Boyd is the high school agricultural education instructor at Clarke Community Senior High School, and she said, "Tara is a wonderful advocate for agriculture. I am continually inspired by her positive attitude and determination." Boyd went on to say, "Not only does she integrate agriculture into her lessons, she also has gone above the call of duty to create opportunities to enhance student's learning through creating an Ag Club at the elementary."

The runner-up for the award was family and consumer science teacher, Megan Thorson, from Northwood-Kensett Community School District. Thorson will also be able to attend the National Agriculture in the Classroom conference having her registration fees covered for her exceptional application. Thorson has integrated agriculture into her classroom through beef, egg, and pork nutrition lessons. She also has a hydroponic tower garden in her classroom to grow fresh vegetables year-round.

"All the food that we cook and learn about has to do with agriculture because all food is grown," said Thorson. "When I first started teaching in the classroom last winter, I was surprised how much the students did not know about the food we eat. I felt like it was a good fit to take my agriculture background so I could share how the foods are grown or raised and how we are able to use this food every day in our class."

About the Iowa Agriculture Literacy Foundation
IALF serves as a central resource for educators and volunteers who want to teach Iowa's students about agriculture. The mission is to educate Iowans, with a focus on youth, regarding the breadth and global significance of agriculture. Iowa is a leading producer of agricultural products that are essential to feed a growing world population, estimated to reach more than 9 billion by 2050. IALF believes it is important for all Iowans to understand the essential role agriculture has in their lives. Through Agriculture in the Classroom efforts IALF engages with teachers and students. IALF is supported by a number of agricultural stakeholders, including the Iowa Corn Growers Association, Iowa Farm Bureau Federation, Iowa Pork Producers Association, CHS Foundation, Corteva Agriscience, Farm Credit Services of America, GROWMARK, the Iowa Beef Industry Council, the Iowa Energy Center, and Silos and Smokestacks National Heritage Area. For more information visit IALF online at
www.IowaAgLiteracy.org
, on
Facebook
, and
Twitter
.