Lone Tree Teacher Recognized for Excellence in Teaching about Agriculture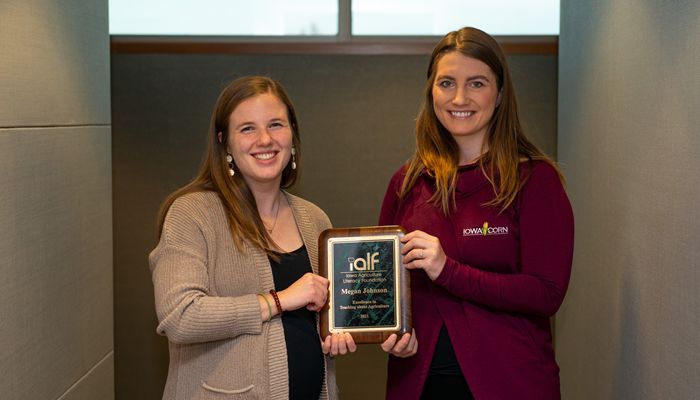 West Des Moines, Iowa—December 20, 2021—Megan Johnson, a teacher from Oxford, Iowa, is the recipient of the Iowa Excellence in Teaching about Agriculture Award presented by the Iowa Agriculture Literacy Foundation (IALF). 
This award is given to teachers who exemplify leading instruction on accurate agriculture knowledge, attitudes, and skills, and demonstrates teaching excellence in gaining student understanding of selected agricultural literacy themes.  
Johnson grew up on a crop and livestock farm near Iowa City and earned her degree from Iowa State University. She is in her fourth year of teaching at Lone Tree Elementary. She is a member of both the Iowa State Education Association and the Lone Tree Education Association.
Inspired by attending her first National Agriculture in the Classroom Conference in Des Moines in June 2021, Johnson integrated the National Agricultural Literacy Outcomes (NALO's) into the science standards used at Lone Tree. 
Her first-grade science curriculum put an emphasis on agriculture and the environment, plants and animals for food and health and lifestyle. Her hands-on lessons focus on student-conducted experiments such as re-rooting plants and investigating animal habitats. Her students also participate in virtual farm field trips to gain an understanding of the healthy food farmers produce. Through these experiences, students see the connection between agriculture and science while also honing their skills in literacy and social studies. 
During a recognition ceremony on Dec. 14, 2021, in West Des Moines, IA, Johnson told IALF board members her students find success in, "hands-on, relatable, rigorous, lessons engage the students." 
"Agriculture ties in nicely with the Life Science Crosscutting Concept and the Life Science Core Ideas," she said.
In honor of the award, Johnson received a $500 stipend to support her continued efforts of integrating agriculture into her classroom curriculum. She will also attend the National Agriculture in the Classroom conference to be held in Saratoga, NY, in June 2022.
# # #
About the Iowa Agriculture Literacy Foundation
IALF serves as a central resource for educators and volunteers who want to teach Iowa's students about agriculture.  The mission is to educate Iowans, with a focus on youth, regarding the breadth and global significance of agriculture.  Iowa is a leading producer of agricultural products that are essential to feed a growing world population, estimated to reach more than 9 billion by 2050.  IALF believes it is important for all Iowans to understand the essential role agriculture has in their lives.  Through Agriculture in the Classroom efforts IALF engages with teachers and students.  IALF is supported by a number of agricultural stakeholders, including the Iowa Corn Growers Association, Iowa Farm Bureau Federation, Iowa Pork Producers Association, CHS Foundation, Corteva Agriscience, Farm Credit Services of America, GROWMARK, the Iowa Beef Industry Council, and Silos and Smokestacks National Heritage Area.  For more information visit IALF online at www.IowaAgLiteracy.org, on Facebook, and Twitter.