Iowa Agriculture Breakout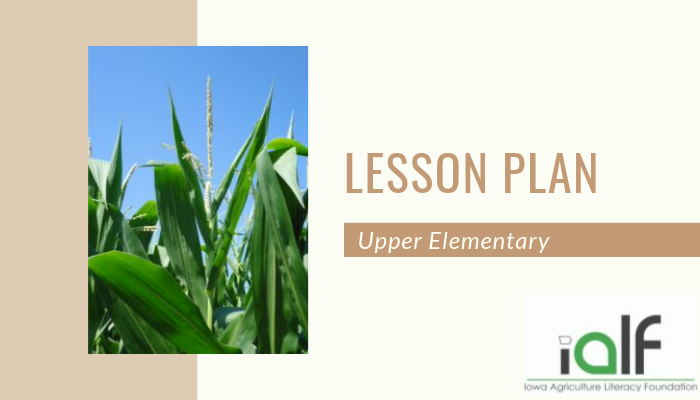 Target Grade Level / Age Range:
Grades 3-5
Time:
Approximately 20 minutes
Purpose:
Students will become familiar with Iowa agriculture – specifically the major commodities of corn, pork, soy, and beef. Students will engage in a puzzle activity to find a hidden recipe. This activity is best suited at the end of a lesson highlighting one of the commodities.
Materials:
Large box with padlock eye hole. A large tool box works well.
Small lock box with key lock. A small cash box works well.
Medium sized lock box with padlock eye hole
Invisible ink pen
UV light
Word lock (five letters)
Hasp
3-digit lock
4-digit lock
Dial padlock with RLR number combination
Small box of cornbread mix
1 copy Iowa Ag Today Issue 2
1 copy Iowa Ag Today Issue 1 Teacher guide activity sheet 'Agriculture Everyday
1 copy My Family's Beef Farm
1 copy My Family's Corn Farm
1 copy My Family's Soybean Farm
Scenario sheet (enough copies for everyone)
American Gothic / Recipe Sheet
Suggested Companion Resources (books and websites)
Preparation
Print copies of the scenario for every student
Roll up the American Gothic with the recipe on the back. Tie with a ribbon and place inside the cash box. Lock cash box.
Place the key to the cash box into the box of corn flour (so to find it, the flour must be dumped out)
Reseal the corn flour and place it into the medium sized lock box.
Place the hasp on it. Place all locks except the four-digit lock on the hasp. Use the provided answer key to set the correct combination on each lock.
Place the medium box in the large box. Put copies of the My Family's Corn and Soybean Farm books in as well as Issue 2 of Iowa Ag Today and the Issue 1 Iowa Ag Today student activity page. Mark pages 10-12 of the My Family's Soybean Farm book with the combination of the dial lock – one number on each page – in invisible ink. Place a UV light in the box.
Lock the large box with the 4-digit lock.
Procedure
Explain to students that The award-winning cornbread recipe from the 1930 Iowa State Fair had been lost to history. Fairgoers raved about how good it was. It was the perfect combination of fluffy cornbread, chewy kernels of corn, and crispy bacon bits. Old timers still talk about it and recall how it was their favorite fair food. The recipe is prized by Iowans because it uses all of the major commodities grown or raised in Iowa (corn, soybeans, pork, and eggs). The cornbread is the perfect accompaniment to a delicious beef roast or beef chili stew.

Many have tried to recreate the recipe, without success. It just never comes out quite right. It was recently learned that the recipe had been inscribed on a copy of the iconic American Gothic painting painted by Iowa native Grant Wood. The painting was hidden in a lockbox for safe keeping. No one has been able to crack the code and open the lock box.

You and your team have been asked to open the lock to rescue the painting and the recipe.

Present students with the large lock box, the cash box, the My Family's Beef Farm book, and copies of the scenario sheet.
If you have multiple sets of this, break group into small teams and have them race each other.
Extension activity
Have students prepare the corn muffins and chili.
Essential Files (maps, charts, pictures, or documents)
Author(s)
Will Fett
Organization Affiliation
Iowa Agriculture Literacy Foundation
Agriculture Literacy Outcomes
T2.3-5.d. Provide examples of specific ways farmers/ranchers meet the needs of animals.
T3.3-5.f. Identify careers in food, nutrition, and health
Iowa Core Standards
21.3–5.ES.1: Essential Concept and/or Skill: Communicate and work productively with others emphasizing collaboration and cultural awareness to produce quality work.
21.3–5.ES.2: Essential Concept and/or Skill: Adjust to various roles and responsibilities and understand the need to be flexible to change.
21.3–5.ES.3: Essential Concept and/or Skill: Practice leadership skills, and demonstrate integrity, ethical behavior, and social responsibility in all activities.


This work is licensed under a Creative Commons Attribution 4.0 International License.