Iowa 4th-graders Invited to Virtual Tour of Pig Farm in Benton County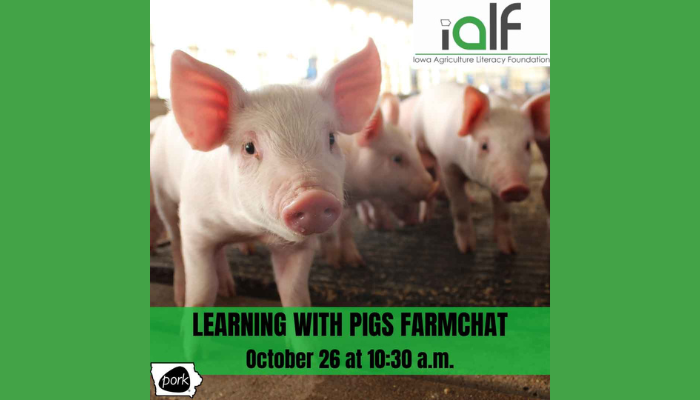 West Des Moines, Iowa – October 18, 2023 – Iowa elementary school students will have the chance to learn about life on a pig farm through a virtual visit Oct. 26. The Iowa Pork Producers Association (IPPA) is working with the Iowa Agriculture Literacy Foundation (IALF) to host a Learning with Pigs FarmChat®. Students can join IALF's Education Program Coordinator Alex Osborn virtually as she tours the Benton County pig farm of Todd and Denise Wiley.
"We appreciate the opportunity to educate grade-school students, as well as 4-H and FFA kids who have a genuine interest in learning about animal agriculture and raising pork," said Todd Wiley. 
Kids will learn how farmers keep their pigs safe, what a hog building looks like, what pigs eat, and much more. Students can also ask questions as they engage with a farmer and see pigs in real time. This webinar is ideal for elementary students in fourth grade or older.  
Kelly Foss, IALF executive director, emphasized the importance of showcasing the connection between agriculture and students' daily lives. "We focus on helping youth see the relevance of agriculture in their daily lives and support teachers as they integrate agriculture into their curriculum. The Learning with Pigs FarmChat® provides students a unique insight into where their food comes from." 
To support educators in making the most of this experience, a comprehensive kit and associated resources will be provided to teachers. These tools help teachers see that agriculture isn't confined to a one-day event, but rather serves as a lens they can use to help students explore scientific and social studies concepts. 
"I hope the kids get a basic understanding of what goes on inside the barns, an opportunity they might not have had otherwise," Todd Wiley said. "While they might not remember every detail we discuss, we hope they remember these animals are well cared for and treated with a great amount of respect." 
IPPA and IALF encourage teachers all over the state to participate in this learning opportunity. 
Questions can be directed to Cathryn Carney at ccarney@iowaagliteracy.org.  
Teachers can go to this link to register for Ag in Action: Learning with Pigs. It will take place at 10:30 a.m. Oct. 26.  
About the Iowa Pork Producers Association 
The mission of the Iowa Pork Producers Association is promoting, educating, and providing a leading voice for a sustainable, socially responsible, and globally competitive pork industry. 
About the Iowa Agriculture Literacy Foundation
Iowa is the leading producer of agricultural products that are essential to feed a growing world population, estimated to reach more than nine billion by 2050. The Iowa Agriculture Literacy Foundation (IALF) believes it is important for all Iowans to understand the essential role agriculture has in their lives. Through Agriculture in the Classroom efforts, IALF engages with teachers and students throughout Iowa. IALF is supported by the Iowa Corn Growers Association, Iowa Farm Bureau Federation, Iowa Pork Producers Association, Iowa Soybean Association, GROWMARK, Iowa Beef Industry Council, Iowa Turkey Federation, Corteva Agriscience, Iowa Department of Agriculture and Land Stewardship, Nutrien, Silos & Smokestacks National Heritage Area, and others in support of strengthening agriculture literacy among pre-kindergarten through 12th grade teachers and their students. For more information visit IALF online at www.IowaAgLiteracy.org, on Facebook, and on X (formerly known as Twitter).