High Steaks! Beef Marketing Competition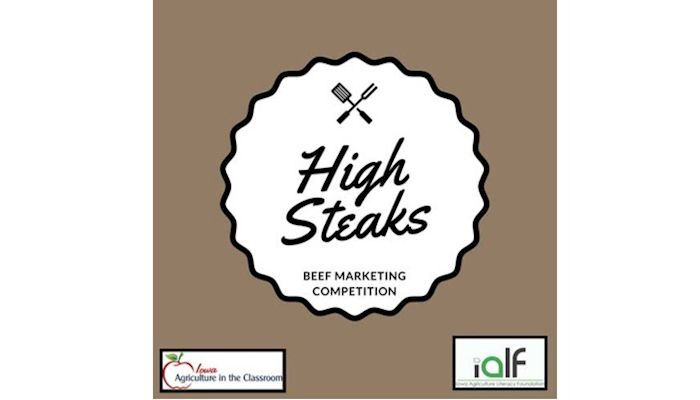 Des Moines, Iowa – December 5, 2017– The Iowa Agriculture Literacy Foundation is announcing a new cross-curricular program for elementary, middle, and high school students to engage with and understand beef production. This experiential learning contest will allow students to creatively develop a marketing strategy for a product of their choice, while learning about the multitude of agricultural careers and skills it takes to develop and sell a product.
Students in grades 3 through 12 will be eligible to participate. Multiple groups or classrooms from the same school, FFA chapters, home school groups, and private schools are all eligible to participate. Students will be learning about the beef production industry and beef nutrition as a result of participation.
Pre-registration is open until January 15, 2018 and final contest submissions are due by March 15, 2018. Winners will be announced in April 2018. The marketing plans and/or poster advertisements will be judged by a panel of beef producers and educators. The top three schools from each division will be announced as winners. Prizes include up to $200, a personalized virtual tour (FarmChat®) of a beef farm, and first place classrooms will have a BBQ lunch brought to their school and catered by the Iowa Beef Industry Council.
Elementary students who participate in the contest must select a beef product and then work together in teams of three or more, or as a classroom, to submit a poster that advertises the product or showcases the health benefits associated with eating beef. Ideas can include a specific cut of beef, a stand-alone product like beef jerky, grab and go meals that include beef, a beef entrée that would be on school lunch menu, served at a senior citizen center, or even at an upscale restaurant.
Middle school and high school students who participate must work together to submit a completed marketing plan of their selected beef-focused product. Their marketing plans will include an introduction, product details, marketing tactics, a market analysis, and nutrition information.
Pre-registration for the High Steaks! Beef Marketing Competition is being accepted at https://form.jotform.com/wfett/high-steaks-2017. For more information about this activity or other education activities please contact the Iowa Agriculture Literacy Foundation at info@iowaagliteracy.org. The program is funded in part by the Iowa Beef Checkoff.
# # #
About the Iowa Agriculture Literacy Foundation
IALF serves as a central resource for educators and volunteers who want to teach Iowa's students about agriculture. The mission is to educate Iowans, with a focus on youth, regarding the breadth and global significance of agriculture. Iowa is a leading producer of agricultural products that are essential to feed a growing world population, estimated to reach more than 9 billion by 2050. IALF believes it is important for all Iowans to understand the essential role agriculture has in their lives. IALF will support existing agriculture education efforts such as FFA, 4-H and Ag in the Classroom. IALF was created through a joint effort of agricultural stakeholders, including the Iowa Corn Growers Association, Iowa Farm Bureau Federation, Iowa Pork Producers Association, Iowa Soybean Association, Silos and Smokestacks Foundation, DuPont Pioneer, GROWMARK, and the Iowa Beef Industry Council. For more information visit IALF online at IowaAgLiteracy.org, on Facebook, and Twitter.
Source:
Iowa Agriculture Literacy Foundation
Will Fett, Executive Director
Iowa Agriculture Literacy Foundation
WFett@IowaAgLiteracy.org
515-331-4182