Growing Monsters in Crawford County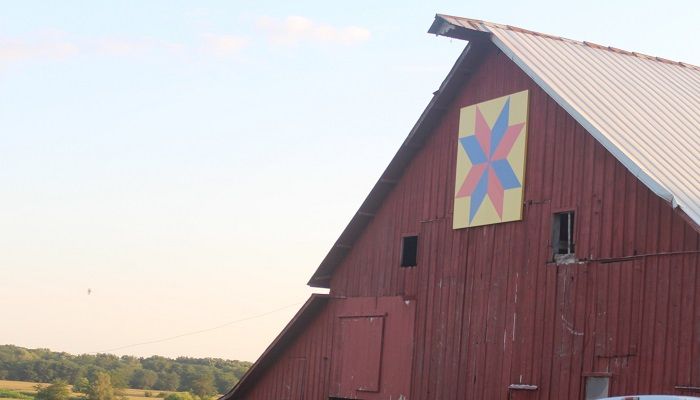 Westside, Iowa – July 21, 2022 – Summers in Iowa are great for growing monsters. Monster Zucchinis of course! The Crawford County Agriculture in the Classroom Committee and Loess Hills Agriculture in the Classroom gather in libraries and community centers in Crawford County to read the book, How to Grow a Monster by author Barbara Bongini. The Crawford County Farm Bureau donates this book to participating libraries so young and old alike can enjoy this tale of two kids who are trying to figure out how to reduce their mom's zucchini crop, only to find out everything they try only makes MORE zucchini. 
Summertime is when the AITC committee reaches out to local libraries and schedules time to read to students, organize activities, and provide snacks. Six libraries will participate during the summer of 2022. 
"The presentation was great," says librarian Joyce Von Glan. "The kids loved making the monster snack, the projects, and [playing] games!"
Farm Bureau board member Connie Riesselman brought in four huge zucchini from her garden to help the children create the "monster snacks".
To help make the connection of fruits, vegetables, and cheeses being healthy snacks, Melanie Bruck, education program coordinator for Loess Hills Agriculture in the Classroom introduced  Fish for Food Groups, an activity based around MyPlate and adapted from a lesson, Farm to School where kids explore healthy food options while learning about how foods are grown.
"Everyone will definitely enjoy having a return visit," stated Von Glan. "Overall, it was an awesome program."
For more information, please visit www.IowaAgLiteracy.org. 
About Loess Hills Agriculture in the Classroom
Loess Hills Agriculture in the Classroom (LHAITC) is a regional effort of the Iowa Agriculture Literacy Foundation (IALF). The inception of LHAITC was led by Carroll Co. Farm Bureau, Crawford Co. Farm Bureau, Harrison Co. Farm Bureau, Shelby Co. Farm Bureau, and West Pottawattamie Co. Farm Bureau and serves school districts in those counties. The mission of Agriculture in the Classroom is to "increase agricultural literacy through PK-12 education." An agriculturally literate person is "one who understands and can communicate the source and value of agriculture as it affects quality of life." AITC programs seek to improve student achievement by applying authentic, agricultural-based content as the context to teach core curriculum concepts in science, social studies, language arts and nutrition. By embedding agriculture into curriculum, AITC cultivates an understanding and appreciation of the food and fiber system that we rely on every day. AITC is unique within the agricultural education community as the lead organization to serve the full spectrum of PK-12 formal education.  For more information visit IALF online at www.IowaAgLiteracy.org, on Facebook, and Twitter.