Boyden-Hull Teacher Recognized for Excellence in Teaching about Agriculture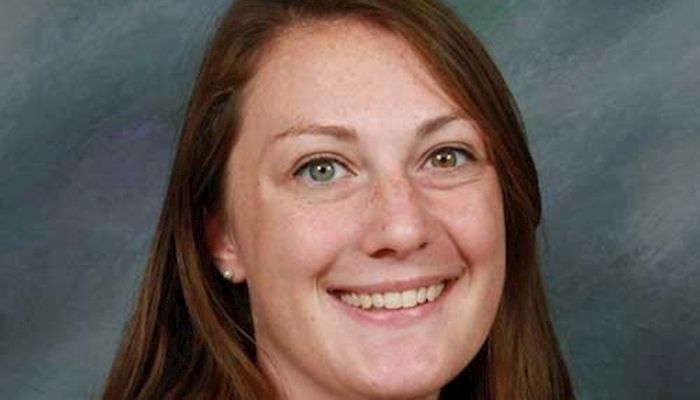 Des Moines, Iowa – February 21, 2018–Cathryn Carney, an environmental science teacher from Hull, Iowa is the recipient of the Iowa Excellence in Teaching about Agriculture award presented by the Iowa Agriculture Literacy Foundation. Carney competed against other elementary, middle and high school teachers to earn the honor. She was recognized at a ceremony at the Iowa Corn Growers Association held in Johnston, Iowa on February 21.
Carney uses Iowa's new science standards to not only teach the content but to provide real world problem solving that shows how the content can be used. She uses agriculture to provide scenarios for those real-world problems and her students work on innovative solutions.
"[GMOs] are a hot topic that many students do not know about or understand," said Carney. "Students explore articles from farmer perspective, citizen perspective, and government perspective. [They] are better able to determine their own stance on GMOs and how they should or should not be regulated."
Carney will receive a $500 stipend to support her continued efforts of integrating agriculture into her classroom curriculum. She will also attend the National Agriculture in the Classroom conference to be held in Portland, Maine in June 2018.
Carney is in her 4 th year of teaching at Boyden-Hull Junior High-High School where she also serves as the talented and gifted teacher. She earned her degree from Augustana University in Sioux Falls, South Dakota. She has some technical lab experience too working on zea mays research at Iowa State University, tissue culture at Sanford Research, and carnivorous plants at Augustana University.
Partnerships make up a significant part of Carney's classroom. Working with Iowa State University, Hull Co-Op, and the Sioux County Soil and Water Conservation her students observed and classified soil and soil health. As a class, they visited farms and performed soil tests to determine the chemical and biological health of the soil. The goal is to explore ways to improve or maintain soil health. Carney was also a recipient of a 2017 Agriculture in the Classroom Teacher Supplement Grant and plans to continue to incorporate agriculture into her classroom activities.
"Agriculture is the backbone of our society. It has shaped not only the economics of society, but has also shaped the land," said Carney. "I believe that teaching agriculture is important because it gives students a way to understand the world around them."
Dr. Barbara Ehlers of Upper Iowa University said, "Her depth of knowledge of science content as well as engaging delivery of instructional strategies caught the attention of the Eii team. Cathryn was instrumental in teaching these units both in the Eii professional development and in her own high school science classroom."
# # #
About the Iowa Agriculture Literacy Foundation
IALF serves as a central resource for educators and volunteers who want to teach Iowa's students about agriculture. The mission is to educate Iowans, with a focus on youth, regarding the breadth and global significance of agriculture. Iowa is a leading producer of agricultural products that are essential to feed a growing world population, estimated to reach more than 9 billion by 2050. IALF believes it is important for all Iowans to understand the essential role agriculture has in their lives. IALF will support existing agriculture education efforts such as FFA, 4-H and Ag in the Classroom. IALF was created through a joint effort of agricultural stakeholders, including the Iowa Corn Growers Association, Iowa Farm Bureau Federation, Iowa Pork Producers Association, Iowa Soybean Association, Silos and Smokestacks Foundation, DuPont Pioneer, GROWMARK, and the Iowa Beef Industry Council. For more information visit IALF online at IowaAgLiteracy.org, on Facebook, and Twitter.
Source:
Iowa Agriculture Literacy Foundation
Contact:
Will Fett, Executive Director
Iowa Agriculture Literacy Foundation
WFett@IowaAgLiteracy.org
515-331-4182