Bettendorf Teacher Recognized for Excellence in Teaching about Agriculture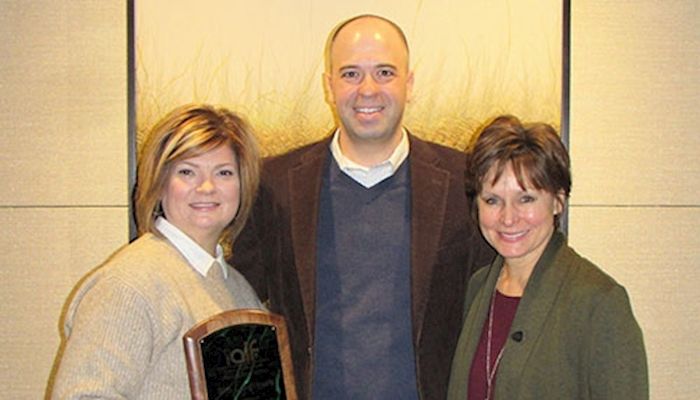 West Des Moines, Iowa – December 13, 2018–Beth Laughbaum, a middle school social studies teacher from Bettendorf, Iowa is the recipient of the Iowa Excellence in Teaching about Agriculture award presented by the Iowa Agriculture Literacy Foundation. Laughbaum competed against other elementary, middle, and high school teachers to earn the honor. She was recognized at a ceremony at the Iowa Agriculture Literacy Foundation board of directors meeting held in West Des Moines, Iowa on December 13, 2018.
Laughbaum uses Iowa's new social studies standards to integrate agriculture into her classes through the global issue of food supply. She asks students three essential questions 1) How do you feed 7 billion people? 2) Does Iowa affect the world? 3)How do economic decisions affect the happiness and prosperity of individuals, businesses, and society?
"We start by discussing how much food we waste," said Laughbaum. "Then we watch a video on food deserts. This really gets them thinking and questioning. My students learn that agriculture is the greatest invention/discovery of all time and affected lives throughout history."
Through the lessons, students also participate in an online simulation called Journey 2050 – a program of National Agriculture in the Classroom originally developed by Nutrien. Students explore sustainable agriculture and they make inquiry-based decisions to see the ripple effect on social, economic and environmental factors locally and globally. Farm families from Kenya, India, and Canada guide students through interactive games such as a virtual farm simulation and career avatar.
Laughbaum will receive a $500 stipend to support her continued efforts of integrating agriculture into her classroom curriculum. She hopes to use the funds to take all her students on a field trip to a farm and experience agriculture first-hand. She will also attend the National Agriculture in the Classroom conference to be held in Little Rock, Arkansas in June 2019.
Laughbaum is in her 16 th year of teaching at Bettendorf Community Schools where she has also organized archaeology projects, developed curriculum, and planned school exhibition nights. She earned her degree from Ashland University in Ashland, Ohio where she graduated cum laude. In her current role she facilitates social studies programs for middle level students and provides students the instructional tools to research topics, investigate sources, and complete projects. She designs and develops effective programs to meet the academic, intellectual, and developmental needs of students.
Social studies standards were recently updated in Iowa. At Bettendorf Middle School, Laughbaum has worked with her colleagues to unwrap each of the new standards in order to gain a deep understand of each standard. Laughbaum led efforts to then develop student-friendly learning targets.
Lisa Reid is the principal at Bettendorf Middle School and said about Laughbaum "I have had the opportunity to observe her in action, working with students, parents, and staff. It is through these observations that I can assure you that Mrs. Laughbaum has mastered each and every teaching standard and is a talented educator."
The runner-up for the award was third grade teacher Jennifer Hardee from Essex Community School. Hardee will also attend the National Agriculture in the Classroom conference having part of her fees covered for her exceptional application. Hardee has integrated agriculture into her classroom for at least 30 minutes every Thursday throughout the school year. Her students learn about apples, pumpkins, corn, maple syrup and Christmas trees, agricultural careers, beef, poultry, corn/soybeans, dairy, and pork. She hatches chicks in her classroom each spring and her students also participate in the High Steaks! Beef Marketing competition.
"Living and teaching in a rural community, it is important that students know and understand the importance of the agricultural industry and how agriculture is no longer just farms and livestock," said Hardee. "I want students to know where their food and clothing comes from and how their future jobs will probably tie into the agricultural industry."
# # #
About the Iowa Agriculture Literacy Foundation
IALF serves as a central resource for educators and volunteers who want to teach Iowa's students about agriculture. The mission is to educate Iowans, with a focus on youth, regarding the breadth and global significance of agriculture. Iowa is a leading producer of agricultural products that are essential to feed a growing world population, estimated to reach more than 9 billion by 2050. IALF believes it is important for all Iowans to understand the essential role agriculture has in their lives. IALF will support existing agriculture education efforts such as FFA, 4-H and Ag in the Classroom. IALF was created through a joint effort of agricultural stakeholders, including the Iowa Corn Growers Association, Iowa Farm Bureau Federation, Iowa Pork Producers Association, Iowa Soybean Association, Silos and Smokestacks Foundation, DuPont Pioneer, GROWMARK, and the Iowa Beef Industry Council. For more information visit IALF online at IowaAgLiteracy.org, on Facebook, and Twitter.
Source:
Iowa Agriculture Literacy Foundation
Will Fett, Executive Director
Iowa Agriculture Literacy Foundation
WFett@IowaAgLiteracy.org
515-331-4182
12/13/2018