Woodbine Students Take a Ride in a Combine, Virtually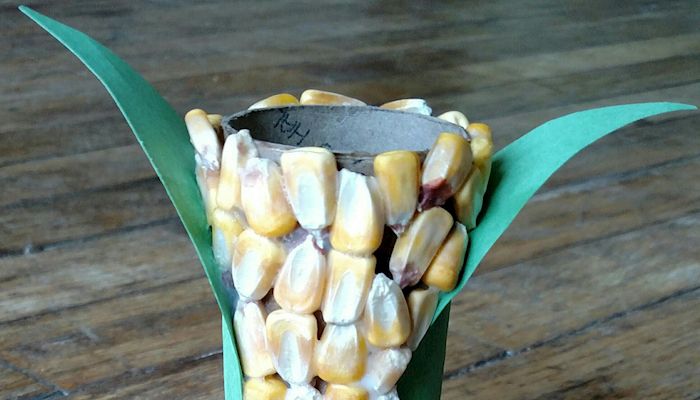 Woodbine, Iowa, – Nov. 4, 2020 – Kindergarten students experienced this year's corn harvest from the viewpoint of a farmer. Melanie Bruck, education program coordinator for Loess Hills Agriculture in the Classroom was able to bring her iPad into the combine and connect with 36 students during two days of programming.
Woodbine students experienced this virtual fieldtrip, or FarmChat®, through a live connection. Students were able to ask questions, get real-time responses from the farmer, and visually see what corn harvest looks like both inside the combine and outside from the ground. The equipment to conduct these FarmChat® programs was provided by Shelby County Farm Bureau and is additionally supported by four other county Farm Bureau organizations including Harrison County which is where Woodbine is located.
Bruck's family farms near Woodbine. Through the virtual field trip, the Kindergarten students first learned about how a long time ago corn was harvested by hand. They discussed things like how big an acre is and how big the average Iowa farm is (over 300 acres).
"There was much discussion around the supper tables from the students on the first day they got to see the combine run," says Tracey Kelly, Elementary Curriculum & Professional Development Director Boyer Valley & Woodbine Schools.
The goal of the lesson was to learn about the history of farming. Lifetime farmer Richard Bruck first showed students how large ears of corn are today largely because of genetics and seed development. He told students in order to collect and hand shell corn, all family members used to work all season to farm 40 acres. Modern equipment allows farmers to harvest many more acres. He then fired up the combine and climbed inside along with the entire class. His combine can harvest 40 acres in just one day which is much more efficient than harvesting by hand. Machinery can be pretty loud, but that didn't stop the students from asking questions.
One student said, "Wow! You're really going fast! How fast are your going?" Bruck explained that he was driving four miles an hour.
Another student asked, "Who drives the other tractor and wagon?" Bruck answered that his brother, Adam Bruck was driving the other tractor.
A third student asked, "How many bushels does your combine hopper hold, and how big is a bushel?" Bruck's hopper can hold 350 bushels. A bushel is a unit of measuring grain and one bushel of corn is approximately 56 pounds.
You could see the students' excitement as they wiggled back and forth and side to side in their seats. They mimicked the movement of the stalks of corn as the dried plants were being pulled into the head of the combine. The students had a safe and interactive field trip. Ears of corn were delivered to their school prior to the program for them to shuck and hand shell. The teacher passed out "I met a farmer" stickers and each student received a kit to make their own cardboard tube ear of corn.
"We're so glad the kids had a chance to experience a corn harvest. That's so great!" said Tracey Russmann of the Harrison County Farm Bureau.
For more information, please visit www.IowaAgLiteracy.org.
About Loess Hills Agriculture in the Classroom
Loess Hills Agriculture in the Classroom (LHAITC) is a regional effort of the Iowa Agriculture Literacy Foundation (IALF). The inception of LHAITC was led by Carroll Co. Farm Bureau, Crawford Co. Farm Bureau, Harrison Co. Farm Bureau, Shelby Co. Farm Bureau, and West Pottawattamie Co. Farm Bureau and serves school districts in those counties. The mission of Agriculture in the Classroom is to "increase agricultural literacy through PK-12 education." An agriculturally literate person is "one who understands and can communicate the source and value of agriculture as it affects quality of life." AITC programs seek to improve student achievement by applying authentic, agricultural-based content as the context to teach core curriculum concepts in science, social studies, language arts and nutrition. By embedding agriculture into curriculum, AITC cultivates an understanding and appreciation of the food and fiber system that we rely on every day. AITC is unique within the agricultural education community as the lead organization to serve the full spectrum of PK-12 formal education. For more information visit IALF online at www.IowaAgLiteracy.org, on Facebook, and Twitter.