Virtual Tour of Farm Celebrates National Ag Week and Iowa History Month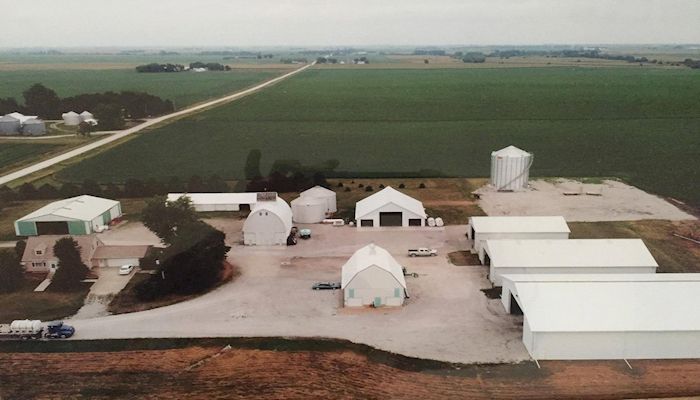 WEST DES MOINES, Iowa – March 23, 2020 – Without leaving home, students will be able to tune in and interact live with a farmer and take a tour of their farm through a virtual experience. This FarmChat® program will celebrate National Agriculture Week and take place on Friday, March 27, 2020.
The event will also celebrate Iowa History Month – March – and is hosted by the Iowa Agriculture Literacy Foundation (IALF). IALF will broadcast a live virtual fieldtrip from a farm Story County, Iowa. Mark Kenney, a 5th generation farmer, will show viewers around his family's farm. He will explain how the farm changed over the last 100 years. Students will see tractors, barns, a grain crib, and grain bins like his dad, grandpa, and great-grandpa used. He will compare them to the tractors, buildings, and grain bins that he uses today.
"This FarmChat® is designed for students," said IALF education program manager Cindy Hall. "But anyone can join to learn about farming long ago and today!"
The program is intended to help supplement student learning for those who are studying from home or as a part of virtual classrooms. With schools closed, resources like this can provide educational experiences in a convenient format. The virtual farm tour will align with and support educational standards as well. Fourth grade social studies standards include teaching students how Iowa's agriculture has changed over time. Because this virtual field trip will compare machines and buildings from previous generations with modern farm operations, students will see the changes over time.
This FarmChat® program will be broadcast on Facebook Live at 10:30am on Friday, March 27, 2020. Viewers can visit the Iowa Agriculture Literacy Foundation Facebook page at the appointed time to view live. Viewers can interact with the farmer by typing in their questions and having the questions answered live.
"Most students don't ever have an opportunity to visit a livestock farm," said IALF executive director, Will Fett. "This program gives students that chance and helps them understand how agriculture has changed in the past century."
For more information about FarmChat® visit the event page at https://www.facebook.com/events/715640525845103/. To learn more about IALF and the Agriculture in the Classroom programs in your area visit www.iowaagliteracy.org.
# # #
About the Iowa Agriculture Literacy Foundation
IALF serves as a central resource for educators and volunteers who want to teach Iowa's students about agriculture. The mission is to educate Iowans, with a focus on youth, regarding the breadth and global significance of agriculture. Iowa is a leading producer of agricultural products that are essential to feed a growing world population, estimated to reach more than 9 billion by 2050. IALF believes it is important for all Iowans to understand the essential role agriculture has in their lives. IALF will support existing agriculture education efforts such as FFA, 4-H and Ag in the Classroom. IALF was created through a joint effort of agricultural stakeholders, including the Iowa Corn Growers Association, Iowa Farm Bureau Federation, Iowa Pork Producers Association, Iowa Soybean Association, Silos and Smokestacks Foundation, DuPont Pioneer, GROWMARK, and the Iowa Beef Industry Council. For more information visit IALF online at
www.IowaAgLiteracy.org
, on
Facebook
, and
Twitter
.