Virtual Story Time with Loess Hills Agriculture in the Classroom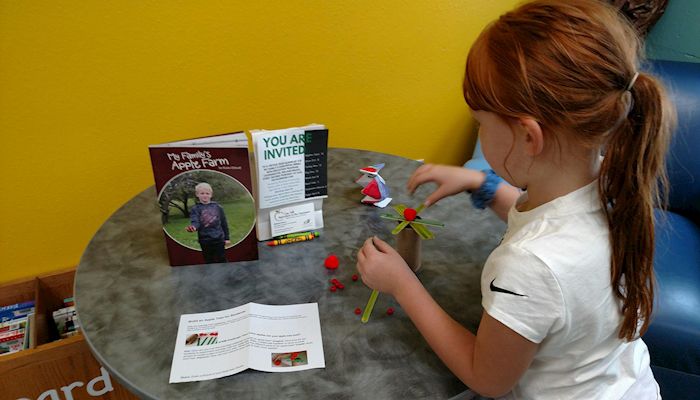 Denison, Iowa, – August 26, 2020 – Students in Crawford County are now able to visit a different farm each month. Melanie Bruck, education program coordinator with Loess Hills Agriculture in the Classroom and Rebecca Berrones with the Norelius Community Library will be conducting monthly read along programs. The event is hosted by Norelius Community Library and co-hosted by Loess Hills Agriculture in the Classroom, a regional effort that is supported in part by the Crawford County Farm Bureau. Virtual read along programs featuring the My Family's Farm book series will take place at 4 p.m. on the 2nd Tuesday of each month. Families will be able to have a virtual story time from a farm.
After reading each My Family's Farm story participants will have a chance to see animals, crops, and other things on the farm. The programs will be live so students can have their questions answered in real time and learn more about agriculture. Each program will focus on a different topic.
Apples on September 10
Corn on October 8
Turkeys on November 12
Pigs on December 10
Wind on January 14
Beef on February 11
Soybeans on March 11
Eggs on April 8
Dairy on May 13
"We think what Agriculture in the Classroom is doing is great! We are excited about what this program will do for the kids at the library," said Berrones.
Activity kits and invitations to the live program are available and can be picked up during regular library hours two weeks before each program from the Norelius Community Library. The learning kits will include instructions and supplies for hands-on activities related to each theme. Volunteers from the Crawford County Farm Bureau participated in creating the kits.
Loess Hills Agriculture in the Classroom will be giving away copies of select titles. Students can receive copies of the My Family's Farm books by participating in the Facebook Live programs. There will be a book (or coloring pages if the book is not available) for the family to pick up at the library. To view the live stream, viewers should go to the Norelius Community Library Facebook page and scroll down until they see the video at 4 p.m. on the 2nd Thursday of each month.
"Reading to students is so important," says Bruck, "I am excited to read and present each month and share about my farm."
This virtual read along program offers students a chance to learn about agriculture, while following the library's social distancing guidelines. Students of all ages are welcome to participate.
For more information, please visit www.IowaAgLiteracy.org.
About Loess Hills Agriculture in the Classroom
Loess Hills Agriculture in the Classroom is a regional effort of the Iowa Agriculture Literacy Foundation (IALF) established August of 2018. It serves school districts in five counties in southwest Iowa including Carroll Co., Crawford Co., Harrison Co., Shelby Co., and West Pottawattamie Co. The IALF mission is to educate Iowans, with a focus on youth, regarding the breadth and global significance of agriculture. IALF serves as a central resource for educators and volunteers who want to teach Iowa's students about agriculture. As leading producer of agricultural products, it is important for all Iowans to understand the essential role agriculture has in their lives. The mission of Agriculture in the Classroom is to "increase agricultural literacy through PK-12 education." An agriculturally literate person is "one who understands and can communicate the source and value of agriculture as it affects quality of life." AITC programs seek to improve student achievement by applying authentic, agricultural-based content as the context to teach core curriculum concepts in science, social studies, language arts and nutrition. By embedding agriculture into curriculum, AITC cultivates an understanding and appreciation of the food and fiber system that we rely on every day. AITC is unique within the agricultural education community as the lead organization to serve the full spectrum of PK-12 formal education. For more information visit IALF online at
www.IowaAgLiteracy.org
, on
Facebook
, and
Twitter
.