Virtual STEM Festival: Presenting the Soybean Life Cycle Online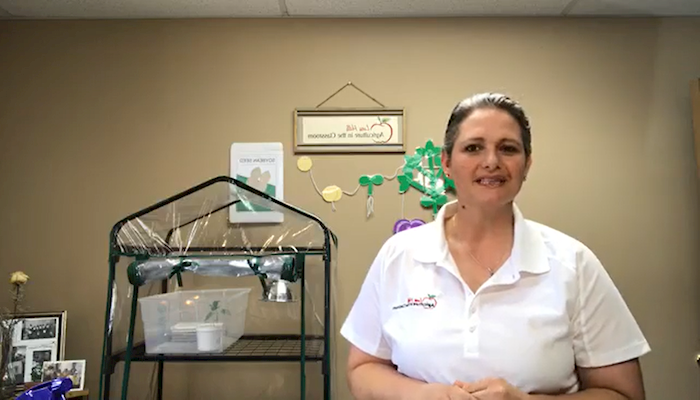 Harlan, Iowa, – June 2, 2020 – STEM festivals were one of the many events effected by COVID-19 closings this school year. Agriculture in the Classroom coordinators, like Melanie Bruck, would have been traveling to multiple schools to present activities on science, technology, engineering, and math (STEM). These community events would have reached many families, educating young and old alike about the importance of agriculture.
Thanks to virtual technology, Bruck joined 13 other presenters on May 28 to create a virtual STEM festival hosted by the Iowa Agriculture Literacy Foundation. STEM festival attendees connected with presenters via Facebook Live. Every ten minutes a new presenter went live for nearly two and a half hours. Presentations covered topics like soil chemistry, pollination, earthworms, ethanol production and more.
"During the school closures, we have offered many virtual learning resources that were well received," said Will Fett, executive director of the Iowa Agriculture Literacy Foundation (IALF). "We thought hosting this virtual STEM festival would be a great way for Iowa schools to close out their year and enjoy learning about agriculture as well."
Since Bruck's farm is in southwest Iowa, she presented on a familiar topic to many Iowans - soybeans. She set up her office as a virtual classroom and used a model to illustrate how soybeans develop from a seed and grow into the mature plant. By using empty CD cases, Bruck germinated soybean seeds for five days in a row. She then shared those during her presentation. The clear cases allowed viewers to see the roots and leaves develop. She also demonstrated for viewers how they could germinate seeds quickly using items from home. To help viewers understand the soybean life cycle, Bruck explained that farmers plant soybean seeds in the spring and harvest them in the fall. She was able to show an example of a mature soybean plant that she brought from her farm.
"A lot of things have needed to be cancelled, and although I miss seeing my students in person, I am happy to know we can connect online and still have access to STEM education," says Bruck.
For more information, please visit www.IowaAgLiteracy.org.
About Loess Hills Agriculture in the Classroom
Loess Hills Agriculture in the Classroom is a regional effort of the Iowa Agriculture Literacy Foundation (IALF) established August of 2018. It serves school districts in five counties in southwest Iowa including Carroll Co., Crawford Co., Harrison Co., Shelby Co., and West Pottawattamie Co. The IALF mission is to educate Iowans, with a focus on youth, regarding the breadth and global significance of agriculture. IALF serves as a central resource for educators and volunteers who want to teach Iowa's students about agriculture. As leading producer of agricultural products, it is important for all Iowans to understand the essential role agriculture has in their lives. The mission of Agriculture in the Classroom is to "increase agricultural literacy through PK-12 education." An agriculturally literate person is "one who understands and can communicate the source and value of agriculture as it affects quality of life." AITC programs seek to improve student achievement by applying authentic, agricultural-based content as the context to teach core curriculum concepts in science, social studies, language arts and nutrition. By embedding agriculture into curriculum, AITC cultivates an understanding and appreciation of the food and fiber system that we rely on every day. AITC is unique within the agricultural education community as the lead organization to serve the full spectrum of PK-12 formal education. For more information visit IALF online at www.IowaAgLiteracy.org, on Facebook, and Twitter.