Virtual Chick Hatching Experience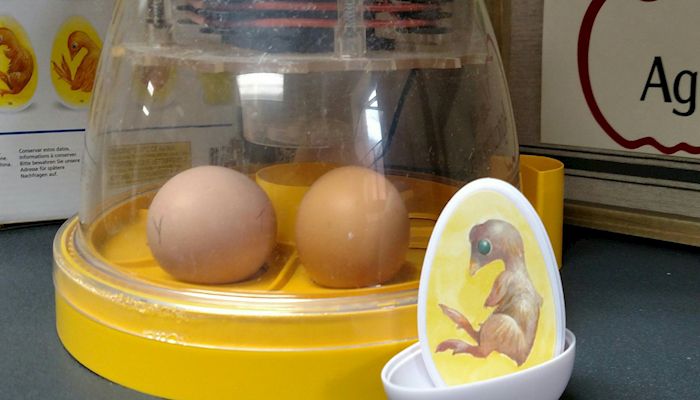 Harlan, Iowa, – March 25, 2020 –Loess Hills Agriculture in the Classroom had recently started two incubation lessons with Kuemper Catholic School System and Tri-Center Community School District. When schools closed to help slow or prevent the spread of COVID-19, the lessons moved online. The incubators are automatic, however needed to be monitored and water needed added every few days. Instead of discontinuing the programs, program coordinator, Melanie Bruck, moved the incubators to her home and office and the lessons to Facebook Live.
Bruck has been giving daily updates at 1:30 on Facebook Live from the Iowa Agriculture Literacy Foundation Facebook page. Each day, she shows the corresponding plastic egg model from a chick life cycle kit. The live posts have been viewed more than 3,000 times and have student viewers from across Iowa and as far away as California, Oklahoma, Washington, and Florida.
"The kids were so disappointed when they thought the eggs would not be able to hatch," said Tri-Center teacher Susie Fah. "I have shared the virtual classroom information with all of my [student's] parents so the kids can continue to get the most from this experience."
It takes 21 days for a chicken egg to hatch into a chick. The eggs are kept in an incubator at 99.6 degrees Fahrenheit and turned approximately every 45 minutes. One lesson talked about why eggs need to be incubated.
"Incubation is keeping an organism at favorable conditions for growth and development," explained Bruck.
The eggs were candled, or placed over a bright light, to detect movement on day nine. In the dark office, each egg was checked to see how the embryos were growing. There was distinguishable movement from eggs in both incubators.
On Day 12, Bruck brought in one of her brooding hens from home. She pointed out the soft down feathers on the underside of a chicken that she uses to keep her clutch of eggs safe and warm.
One preschool student, who is following along with the daily lessons, was pretending to sit on her own clutch of eggs. Her teacher told Bruck that, "she says she is waiting for her eggs to 'patch'."
While experiencing the embryology project firsthand in the classroom is preferred, this daily post has been one-way Bruck stays connected with her teachers and their students.
For other examples of virtual learning, please visit www.IowaAgLiteracy.org.
About Loess Hills Agriculture in the Classroom
Loess Hills Agriculture in the Classroom is a regional effort of the Iowa Agriculture Literacy Foundation (IALF) established August of 2018. It serves school districts in five counties in southwest Iowa including Carroll Co., Crawford Co., Harrison Co., Shelby Co., and West Pottawattamie Co. The IALF mission is to educate Iowans, with a focus on youth, regarding the breadth and global significance of agriculture. IALF serves as a central resource for educators and volunteers who want to teach Iowa's students about agriculture. As leading producer of agricultural products, it is important for all Iowans to understand the essential role agriculture has in their lives. The mission of Agriculture in the Classroom is to "increase agricultural literacy through PK-12 education." An agriculturally literate person is "one who understands and can communicate the source and value of agriculture as it affects quality of life." AITC programs seek to improve student achievement by applying authentic, agricultural-based content as the context to teach core curriculum concepts in science, social studies, language arts and nutrition. By embedding agriculture into curriculum, AITC cultivates an understanding and appreciation of the food and fiber system that we rely on every day. AITC is unique within the agricultural education community as the lead organization to serve the full spectrum of PK-12 formal education. For more information visit IALF online at www.IowaAgLiteracy.org, on Facebook, and Twitter.