Tri-Center FFA Students Host Annual Ag Safety Day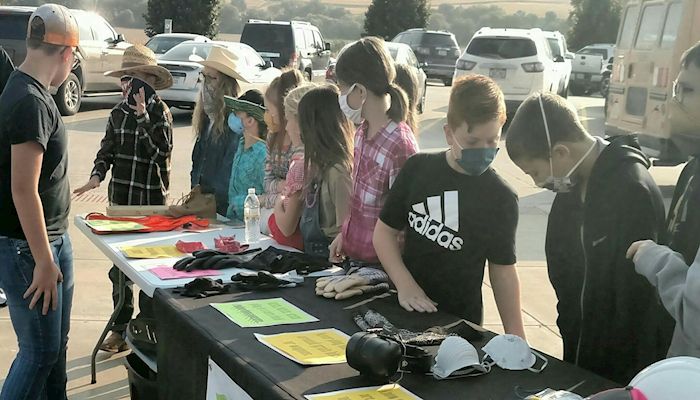 Neola, Iowa, – September 23, 2020 – Tractors, grain carts, mowers, and livestock trailers are not something you'd expect to see in a school parking lot. What would be the reason to have farm equipment at the school, except for the annual FFA Ag Safety Day of course! Each year, members of the Tri-Center FFA Chapter host an event that elementary students get to attend. This year kindergarten through fifth grade students learned about how to stay safe when visiting or working on a farm.
"I really enjoy our annual FFA Ag Safety Day because it allows members to shine in their areas of expertise, as well as bring to light the major dangers farmers face on a day to day basis," said Tri-Center FFA advisor Josie McMinemee. "They share their knowledge and experiences on agriculture safety and anyone that attends this event can see the joy it brings both the members and the elementary kids. Although not every student that attends Ag Safety Day will grow up to be a farmer, we still believe this event will help kids understand and respect the hard work farmers do to put food on our tables."
Loess Hills Agriculture in the Classroom was invited to present a lesson on what farmers wear to stay safe. The current global pandemic has helped raise awareness of personal protective equipment (PPE) like face masks. Farmers wear many other types of PPE including gloves, hats, long sleeves and more to stay safe on the job. Melanie Bruck, with the help of enthusiastic high school FFA members had the opportunity to show students how farmers used lots of equipment to stay safe. Things like using goggles to keep chemicals and foreign objects out of eyes, gloves to keep hands safe, ear protection when operating machinery, and even wearing sturdy boots to prevent injuries are all things farmers wear to protect themselves.
Other stations included machinery, like tractors, grain carts, skid loaders, and mowers that all require special handling instructions. The children watched as their high school guides showed them about power take offs (PTOs) and why you should never step over them. Always walk around PTOs to avoid danger. They learned where to stand, and where not to stand around equipment.
Stations on identifying chemicals safely, why to never play in grain, and how to be safe around livestock were also presented. Sophomore Revin Bruck brought his purebred Simmental heifer and her calf in a livestock trailer that both transported the pair and folded out, turning attached gates into a corral to contain the animals safely during the day's events. He talked to students about approaching animals safely, washing hands after handling livestock and equipment, as well as giving a warning to never get between a cow and her calf.
"Ag Safety Day is a great day for all of our students," said Angie Huseman, Tri-Center Schools superintendent. "The younger students get to learn about how to be safe in their environment from the older students and the older students have to plan, organize and then present their material in a way that is both captivating and understandable. This is great 'role model' practice for our high school students, at the same time showcasing leaders to which our younger students can aspire."
For more information, please visit www.IowaAgLiteracy.org.
About Loess Hills Agriculture in the Classroom
Loess Hills Agriculture in the Classroom is a regional effort of the Iowa Agriculture Literacy Foundation (IALF) established August of 2018. It serves school districts in five counties in southwest Iowa including Carroll Co., Crawford Co., Harrison Co., Shelby Co., and West Pottawattamie Co. The IALF mission is to educate Iowans, with a focus on youth, regarding the breadth and global significance of agriculture. IALF serves as a central resource for educators and volunteers who want to teach Iowa's students about agriculture. As leading producer of agricultural products, it is important for all Iowans to understand the essential role agriculture has in their lives. The mission of Agriculture in the Classroom is to "increase agricultural literacy through PK-12 education." An agriculturally literate person is "one who understands and can communicate the source and value of agriculture as it affects quality of life." AITC programs seek to improve student achievement by applying authentic, agricultural-based content as the context to teach core curriculum concepts in science, social studies, language arts and nutrition. By embedding agriculture into curriculum, AITC cultivates an understanding and appreciation of the food and fiber system that we rely on every day. AITC is unique within the agricultural education community as the lead organization to serve the full spectrum of PK-12 formal education. For more information visit IALF online at www.IowaAgLiteracy.org, on Facebook, and Twitter.