Students Learn the Job Description of a Farmer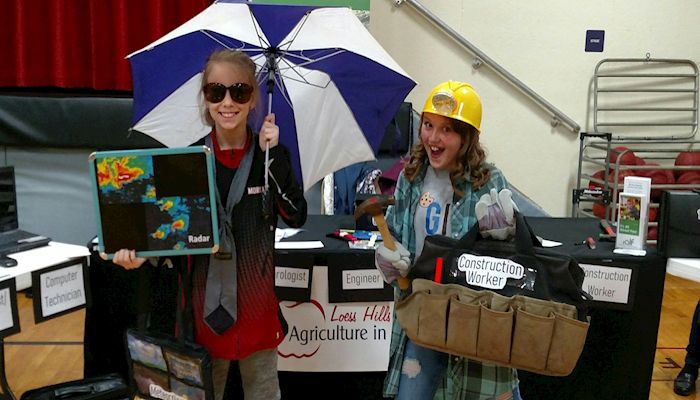 Dow City, Iowa, – March 16th, 2020 – How many hats does an Iowa farmer wear? Student visitors to the World of Work STEM night in Dow City had the chance to see how many roles a farmer might need to fill daily.
From agronomist to veterinarian, the farmer needs to be able to do it all. Melanie Bruck, of Loess Hills Agriculture in the Classroom, partnered with Crawford County Farm Bureau members Connie Riesselman, Lynn Ross, and Coletta Weeda to present to over 80 students, their parents, and other adults. Attendees had the opportunity to dress up as whatever job they chose. Students then illustrated the Many Hats of an Iowa Farmer to capture their ideas.
Props were set up on three tables to show each job a farmer performs as an interactive student exhibit. Items represented all of the tasks a farmer does including a nutritionist, an athlete, a business manager, a meteorologist, a mechanic, a construction worker, and a teacher. Students dressed as a veterinarian, an electrician, a truck driver, an agronomist, a plant/soil scientist, an environmental scientist, a computer technician, and an inventor/engineer.
"Did you ever think about all the things a farmer gets to do every day?," Ross asked students as they approached the tables. "They can be a truck driver, or an electrician, they care for animals like veterinarians do, and even get to be meteorologists, keeping an eye on the weather."
Bruck asked one elementary student, "Why would it be important to watch the weather?" They replied, "Well, if you plant your seeds and it rains a lot the seeds could just wash away."
"The way we farm is changing," says Bruck. "Community activities are a great opportunity to show kids the many specialized roles producers fill. Students are intrigued by the fact farmers use computers every day. I believe it is important kids, and adults alike, know the many roles farmers fill, and why those roles are important."
For more information, please visit www.IowaAgLiteracy.org.
About Loess Hills Agriculture in the Classroom
Loess Hills Agriculture in the Classroom is a regional effort of the Iowa Agriculture Literacy Foundation (IALF) established August of 2018. It serves school districts in five counties in southwest Iowa including Carroll Co., Crawford Co., Harrison Co., Shelby Co., and West Pottawattamie Co. The IALF mission is to educate Iowans, with a focus on youth, regarding the breadth and global significance of agriculture. IALF serves as a central resource for educators and volunteers who want to teach Iowa's students about agriculture. As leading producer of agricultural products, it is important for all Iowans to understand the essential role agriculture has in their lives. The mission of Agriculture in the Classroom is to "increase agricultural literacy through PK-12 education." An agriculturally literate person is "one who understands and can communicate the source and value of agriculture as it affects quality of life." AITC programs seek to improve student achievement by applying authentic, agricultural-based content as the context to teach core curriculum concepts in science, social studies, language arts and nutrition. By embedding agriculture into curriculum, AITC cultivates an understanding and appreciation of the food and fiber system that we rely on every day. AITC is unique within the agricultural education community as the lead organization to serve the full spectrum of PK-12 formal education. For more information visit IALF online at www.IowaAgLiteracy.org, on Facebook, and Twitter.