Student Researchers Receive Scholarships to Study Pork and Swine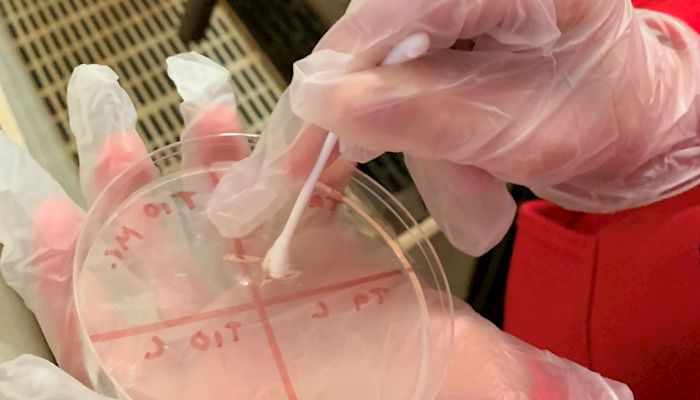 WEST DES MOINES, Iowa – February 5, 2021 – The Iowa Agriculture Literacy Foundation (IALF) supported by the Iowa Pork Producers Association has awarded four scholarships to students researching pork and swine. The middle and high school students, who come from different schools, will conduct research projects and present their findings at science fair events throughout Iowa over the next two months.
Silvia Poore, Abigail Schmitt, Presley Buttler, and the team of Brody Moeller and Ward Fraise were each awarded $400 to support their research and present their work at one of the four science fairs and symposiums hosted in Iowa. The scholarships are funded by the Iowa Pork Producers Association which hopes to encourage more students to get involved in swine and pork science research.
Poore is a senior at Des Moines Public Schools and is researching swine feed rations and their effect on average daily gain and carcass quality. Des Moines Public School animal science program has a school farm on the south side of Des Moines where students raise an assortment of livestock. Every year they raise 12 pigs that are processed at Story City Locker and sold in HyVee stores around the metro area. Along with raising the pigs, students do an Average Daily Gain research trial. This year the trial involves different grower/finisher rations from various feed companies.
"We have two control groups and four study groups with two pigs in each," said Poore. "We will gather data for all 12 pigs on back fat, loin eye area, dress percent, and any other data points deemed useful. We will also calculate profit/loss based on finishing weight and selling price."
Schmitt is a sixth-grade student at Thomas Jefferson Middle School in Dubuque and is researching animal behavior and moving pigs efficiently. She will research safe and proper ways to move pigs from one facility to another. She will study animal behavior to get an understanding of what triggers pigs to move and the best practices to direct pigs in a safe manner. Through this research she hopes to create a new system to move pigs on the farm.
Buttler is a freshman at ACGC High School in Guthrie Center and is researching respiratory diseases and treatments in show pigs. She will be taking nasal swabs of her pigs and analyze the bacterial growth on Petri dishes. She will be testing different medications on the bacterial growth. She recognizes that sick pigs need to be cared for and has seen connections between illnesses and the pigs' rate of gain and morale. She said, "By doing this research project I hope to improve my pigs' health."
The team of Moeller and Fraise are researching disinfectants used on farrowing crates. This is their second year of the project. The seventh-grade students from Central Lee Middle School in Donnellson will take swabs of farrowing crates after they have been cleaned and observe any bacteria growth. Their project last year identified Clorox bleach products as the most effective chemical clearer for reducing harmful bacterial growth. The second phase of their project will focus on application methods – wipes versus sprays.
"We are excited to support these students," said Joyce Hoppes of the Iowa Pork Producers Association. "Good science helps propel responsible pork production forward. As the nation's top pork-producing state, it's in every Iowan's interest to keep pork and pork by-products as an important part of farming and the food supply."
Students will compete with their research projects at one of the science fairs and symposiums hosted in Iowa including: the Junior Science & Humanities Symposium (March 2-3, 2021 in Iowa City, IA); the Western Iowa Science and Engineering Fair (March 5-20, 2021 virtually); the Eastern Iowa Science and Engineering Fair (March 8-20, 2021 virtually); or the State Science and Technology Fair of Iowa (March 26-27, 2021 in Ames, IA). For more information, visit www.iowaagliteracy.org.