Shelby Co. Farm Bureau Donated $10,000 to Loess Hills Agriculture in the Classroom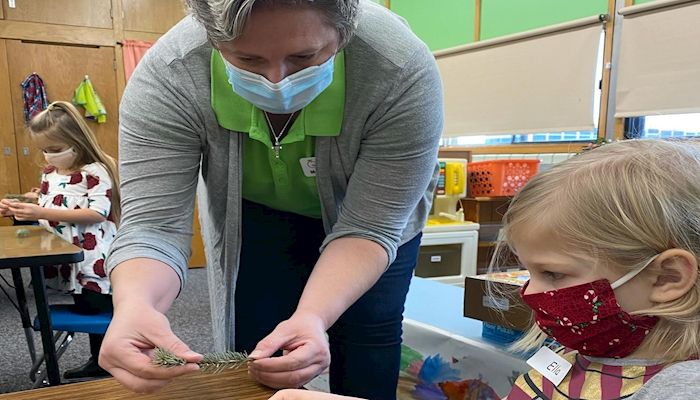 Harlan, Iowa, – December 21, 2020 – Members of the Shelby Co. Farm Bureau recently approved a $10,000 donation to Loess Hills Agriculture in the Classroom (LHAITC) to support in-classroom programming, educational support, and teacher professional development. Shelby Co. Farm Bureau was instrumental in establishing LHAITC in 2018 and has helped ensure the continued success.
Shelby Co. Farm Bureau focuses on helping farm families prosper and helping students learn about where how their food is raised and that it comes from the farm. This aligns to the Farm Bureau mission of creating a vibrant future for agriculture, farm families, and their communities. Shelby County Schools that the LHAITC programs works with include the Harlan Community School District, Shelby County Catholic School District, the IKM-Manning Community School District, the Boyer Valley Community School District, the A-H-S-T-W Community School District, and the Exira-Elk Horn-Kimballton Community School District.
"We are proud to be a major part of educating Shelby Co. students about how their food is grown and raised," said Joel Wahling Shelby Co. Farm Bureau president. "I have been impressed by the interest of the kids and teachers throughout the region."
"Agriculture is everywhere," said Melanie Bruck, education program coordinator for LHAITC. She teaches students about all kinds of farms, even farms that grow Christmas trees. Students are able to see, feel, and even smell, the evergreen branches that Bruck has collected from a windbreak that surrounds her farm. Bruck reads the story The Christmas Farm to students as part of her educational programs in December. Students learn that farmers at the nursery plant trees and care for them year-round, just like in the story.
"Partnering with Shelby Co. Farm Bureau has been instrumental in making this program a success," said Bruck. "The kids are always so excited to learn something new about the farm. Teachers have had such positive feedback about how the lessons have supplemented their students' learning."
As part of this past year's programming, LHAITC conducted 177 programs which had an impact on 3,423 students - 537 of those from school districts in Shelby County. Virtual programs were also conducted and reached nearly 10,000 viewers. Agriculture in the Classroom strives to increase agricultural literacy through Pre-K-12 education. An agriculturally literate person is defined as one who understands and can communicate the source and value of agriculture as it affects quality of life. LHAITC programs seek to improve student achievement by applying authentic, agricultural-based content as the context to teach core curriculum concepts in science, social studies, language arts and nutrition. By embedding agriculture into curriculum, LHAITC cultivates an understanding and appreciation of the food and fiber system that we rely on every day.
Shelby Co. Farm Bureau board member, Alan Kenkel said, "Loess Hills Agriculture in the Classroom has had many good successes and is positioned to continue to be a leader in Iowa as a great experience for students. We feel that by providing this type of exposure to food production, future consumers will have a knowledge of where their food comes from. "
For more information, please visit www.IowaAgLiteracy.org.
About Loess Hills Agriculture in the Classroom
Loess Hills Agriculture in the Classroom (LHAITC) is a regional effort of the Iowa Agriculture Literacy Foundation (IALF). The inception of LHAITC was led by Carroll Co. Farm Bureau, Crawford Co. Farm Bureau, Harrison Co. Farm Bureau, Shelby Co. Farm Bureau, and West Pottawattamie Co. Farm Bureau and serves school districts in those counties. The mission of Agriculture in the Classroom is to "increase agricultural literacy through PK-12 education.". AITC is unique within the agricultural education community as the lead organization to serve the full spectrum of PK-12 formal education. For more information visit IALF online at www.IowaAgLiteracy.org, on Facebook, and Twitter.