My Family's Dairy Farm by Children's Author Katie Olthoff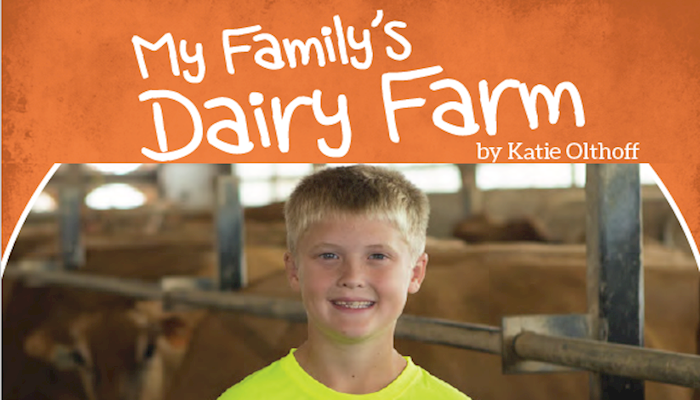 Des Moines, Iowa – December 8, 2020– A new non-fiction book by children's author Katie Olthoff is now available and tells the story of raising cows and producing milk on an Iowa farm. My Family's Dairy Farm is available by request free for students and teachers from the Iowa Agriculture Literacy Foundation (IALF).
The story follows Lucas, an 8-year-old boy in Iowa who helps on his family's dairy farm producing milk. Lucas takes the readers on a tour of the farm and discusses how they care for the cows which produce milk that is made into cheese and other dairy products. He discusses the quality care that the cows receive and other aspects of sustainability that the farm practices. The book is written at a 3rd grade reading level and has supplemental text that gives additional background information for more advanced readers.
The book is the ninth in a series by Olthoff who is a former teacher and understands the importance of having high quality, relevant non-fiction books for students. Iowa Core educational standards require that up to 50% of student reading be informational or non-fiction. Olthoff writes the books for IALF in an effort to provide non-fiction, agriculture-based resources to schools.
"Milk is the third largest beverage category so dairy production is an important and essential to the food supply," said Will Fett, IALF executive director. "My Family's Dairy Farm offers the opportunity to teach about how cows are cared for and how milk can be used for a variety of dairy products including cheese, yogurt, ice cream, and so much more. We can also discuss important topics like sustainability and protecting natural resources."
Olthoff lives on a working turkey farm in central Iowa with her husband and family. Her first book detailed how turkeys were raised on their family farm. She currently works for ChopLocal as director of communications. She is active in the agriculture community in Iowa and beyond as a volunteer for Common Ground, a national network of farm women who share information on food and farming with consumers across the country. She has experience teaching and communicating about agriculture with her blog.
The book features the technology used on dairy farms to track production and the health of the cows. It explains the feed rations that create a healthy diet for the cows. It explains how the milk is collected, tested, and then transported to the processor to become cheese.
"Understanding where milk and dairy products come from is important," said Jenna Finch of Midwest Dairy. "This book will help students connect the dots between the high-quality care the cows receive and the tasty dairy product that they get to enjoy."
Copies of the book are being made available to all Iowa elementary schools and additional copies are available on request. The book is a special project of the Iowa Agriculture Literacy Foundation with financial support from Midwest Dairy. The book also has two lesson plan companion resources that will help teachers integrate the book into a science or social studies lesson. The lesson plans are aligned with Iowa Core standards and easily fit into an approved course of study.
For more information about this book or other education resources please contact the Iowa Agriculture Literacy Foundation at info@iowaagliteracy.org.