Mix Up Some Fun at the Fair!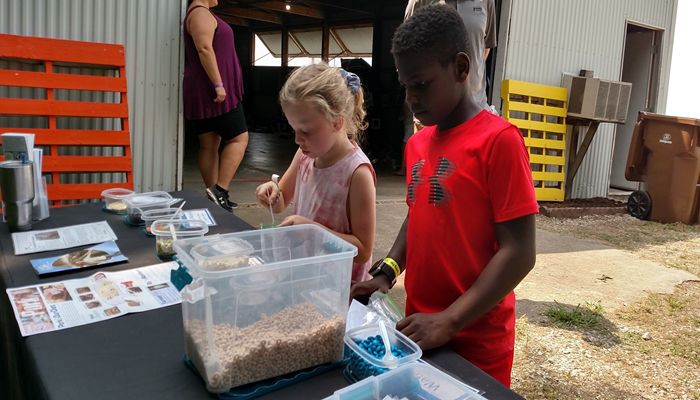 Council Bluffs, Iowa – August 2, 2021 – Lessons about agriculture can be conducted anywhere -  in school classrooms, in a field, in a library, or even at the county fair. Loess Hills Agriculture in the Classroom (LHAITC) conducted programming at the county fairs in Carroll Co., Crawford Co., Harrison Co., Shelby Co, and West Pottawattamie Co. While each location was different, the goal of each event was to "Mix Up Some Fun" using pig feed rations as a way to explain how farmers use STEM every day while taking care of their pigs. 
Participants counted and weighed snack items like blue M&M's to represent water, toasted O's cereal and corn nuts for carbohydrates, soy nuts for protein, white chocolate chips for fat, and candies and raisins for vitamins and minerals. Fair participants learned how to properly mix nutritious feed rations for pigs. This is only one example of the math and science skills animal nutritionists, veterinarians, and swine farmers use to keep their animals growing and improving average daily gain.
"There is so much to do and see at the fair," said Melanie Bruck, Education Program Coordinator for LHAITC. "Capturing the children's attention with candy and trail mix was just the beginning of the agriculture lesson." 
After picking out their "feed sack" (a plastic bag with a list of the ingredients they would need), children scooped, counted, measured, and weighed various items. While students built their trail mix, Bruck described the importance of carbohydrates, protein, and even fat in an animal's diet. Bruck also described the helpers who make the farmer's job possible - animal nutritionists, and veterinarians, truck drivers, and feed dealers all play in a role in the production of pork. 
"Kids need to know this stuff," stated the father of one of the fair participants. "It is important they know their food does not just come from the grocery store." 
While Bruck received many thank yous from parents and grandparents for providing this quick (and tasty) lesson, she truly enjoyed reaching out to students and teaching them about the many careers in agriculture.
Also, who could resist mixing up fun during a day at the fair? 
For more information, please visit www.IowaAgLiteracy.org. 

About Loess Hills Agriculture in the Classroom
Loess Hills Agriculture in the Classroom (LHAITC) is a regional effort of the Iowa Agriculture Literacy Foundation (IALF). The inception of LHAITC was led by Carroll Co. Farm Bureau, Crawford Co. Farm Bureau, Harrison Co. Farm Bureau, Shelby Co. Farm Bureau, and West Pottawattamie Co. Farm Bureau and serves school districts in those counties. The mission of Agriculture in the Classroom is to "increase agricultural literacy through PK-12 education." An agriculturally literate person is "one who understands and can communicate the source and value of agriculture as it affects quality of life." AITC programs seek to improve student achievement by applying authentic, agricultural-based content as the context to teach core curriculum concepts in science, social studies, language arts and nutrition. By embedding agriculture into curriculum, AITC cultivates an understanding and appreciation of the food and fiber system that we rely on every day. AITC is unique within the agricultural education community as the lead organization to serve the full spectrum of PK-12 formal education.  For more information visit IALF online at www.IowaAgLiteracy.org, on Facebook, and Twitter.