Making an Impact with Loess Hills Agriculture in the Classroom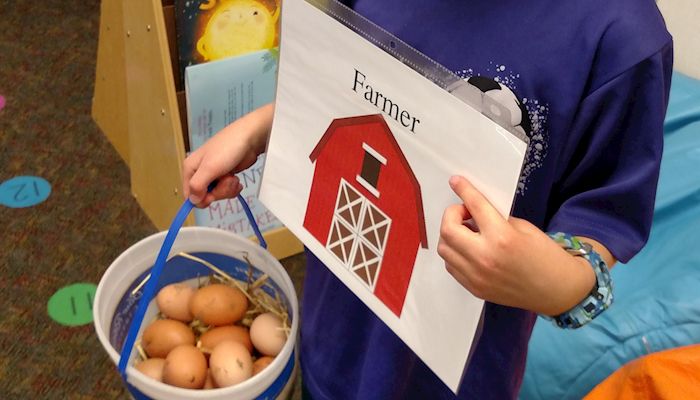 Harlan, Iowa – June 4, 2021 – Throughout Carroll, Crawford, Harrison, Shelby, and West Pottawattamie counties, Loess Hills Agriculture in the Classroom programs have conducted 227 class presentations reaching 3,247 students and 331 teachers this past school year. An additional 2,921 students learned through a virtual story time about the commodities that we produce right here in Iowa. Programing continued to reach new students enabling them to discover the important role that agriculture plays in their daily life.
"This past school year has been very unique," says Loess Hills Agriculture in the Classroom education program coordinator, Melanie Bruck. "I was continuously amazed at the resilience of students and teachers alike, who embraced the programming and adapted to the changes like virtual learning, wearing masks, and practicing social distance."
This school year, technology enabled students to ride along as farmers harvested their fields and follow along with the My Family's Farm books in virtual story time activities. Technology allowed every 7th grade family consumer science student from Denison to join Bruck in virtual classroom programming about livestock, food, and nutrition.
Reaching students with an iPad and a Facebook Live feed wasn't always easy. For instance, while recording a reading of the My Family's Egg Farm book, Bruck was had to dodge rain drops and search for a wi-fi signal. After reading the book, she showed students the nesting boxes of her family's chicken coop. In the recording, viewers can see drops of rain coming down all around and even landing on the pages of the book.
"It was a challenge, but well worth the effort to help students experience agriculture," says Bruck.
The program saw growth over the past year as the number of secondary teachers who requested agriculture programming more than doubled from the previous school year.
The vaccine rollout made returning to in person learning safer and Bruck was able to conduct more classroom visits toward the end of the school year. She enjoys visiting school districts from Council Bluffs to Coon Rapids and everywhere in between. Loess Hills Agriculture in the Classroom efforts were officially organized in August of 2018. Since then, programming has reached and benefited 16,455 students, teachers, and community members.
For more information, please visit www.IowaAgLiteracy.org.
About Loess Hills Agriculture in the Classroom
Loess Hills Agriculture in the Classroom (LHAITC) is a regional effort of the Iowa Agriculture Literacy Foundation (IALF). The inception of LHAITC was led by Carroll Co. Farm Bureau, Crawford Co. Farm Bureau, Harrison Co. Farm Bureau, Shelby Co. Farm Bureau, and West Pottawattamie Co. Farm Bureau and serves school districts in those counties. The mission of Agriculture in the Classroom is to "increase agricultural literacy through PK-12 education." An agriculturally literate person is "one who understands and can communicate the source and value of agriculture as it affects quality of life." AITC programs seek to improve student achievement by applying authentic, agricultural-based content as the context to teach core curriculum concepts in science, social studies, language arts and nutrition. By embedding agriculture into curriculum, AITC cultivates an understanding and appreciation of the food and fiber system that we rely on every day. AITC is unique within the agricultural education community as the lead organization to serve the full spectrum of PK-12 formal education. For more information visit IALF online at www.IowaAgLiteracy.org, on Facebook, and Twitter.