Loess Hills Agriculture in the Classroom Receives Donation from Corteva Agriscience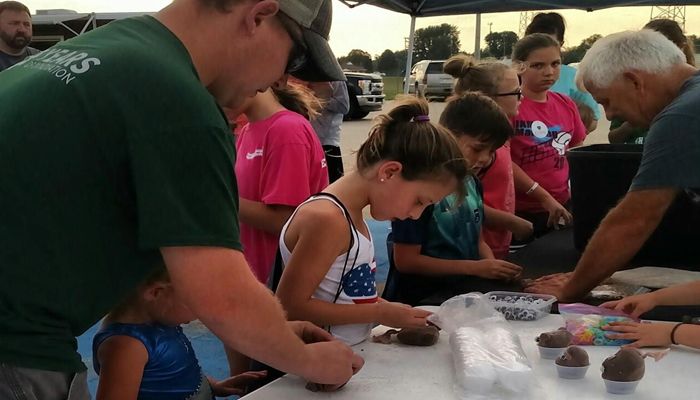 Harlan, Iowa – August 25, 2021 – Educating students about agriculture in 21 school districts requires support. Loess Hills Agriculture in the Classroom (LHAITC) is pleased to have new partner in those efforts which began three years ago. Corteva Agriscience has donated $2,500 to help LHAITC to continue to educate students, and teachers, about where their food, fuel, and fibers come from.
Free lessons and resources are available to any teacher in the Iowa counties of Carroll, Crawford, Harrison, Shelby, and West Pottawattamie. Once a teacher reaches out,  LHAITC begins to create a plan to help by providing resources, help in conducting lessons, or providing a guest presentation.
Melanie Bruck, LHAITC education program coordinator, conducts in person programming at the school directly or virtually at the request of the teacher. Programs typically last between 20-30 minutes and can cover a multitude of topics – always with a focus on agriculture and agricultural systems.
"If we really want kids to learn about agriculture, then we need to provide them with firsthand experiences," says Bruck. "It is important also to introduce the teachers to the many ways they can teach science and social studies standards by using and incorporating agricultural examples."  
Corteva makes contributions to community-based organizations on behalf of the company and employees. Consideration for outreach grants is given to communities where Corteva sales representatives, farmer dealers, employees and customers live and work and that support quality-of-life initiatives to create an improved, sustainable lifestyle for people worldwide.
"The importance to continue to advocate, teach, and promote agriculture in our communities is as imperative as ever," said Luke Stamp, Pioneer Field Sales Agronomist. "We are extremely pleased to partner with Loess Hills Agriculture in the Classroom on furthering those efforts. The future of agriculture is bright, and we are proud to help cultivate the interest of the next generation."
School Districts that signed up for programing and teacher professional development with Loess Hills Agriculture in the Classroom for the 2020-2021 school year have included Ar-We-Va CSD, Coon Rapids-Bayard CSD, Denison CSD, Exira CSD, Glidden-Ralston CSD, Harlan CSD, IKM Manning CSD, Kuemper Catholic CSD, Lewis Central CSD, Logan-Magnolia CSD, Shelby County Catholic, St. Rose of Lima, Tri-Center CSD, Woodbine CSD, and the FISH Homeschool Coop. A total of 349 teachers and 2,851 students have benefited from agriculture literacy programs, as well as 161 additional community members, thanks in part to contributions from partners like Corteva.  
For more information, please visit www.IowaAgLiteracy.org.
About Loess Hills Agriculture in the Classroom
Loess Hills Agriculture in the Classroom (LHAITC) is a regional effort of the Iowa Agriculture Literacy Foundation (IALF). The inception of LHAITC was led by Carroll Co. Farm Bureau, Crawford Co. Farm Bureau, Harrison Co. Farm Bureau, Shelby Co. Farm Bureau, and West Pottawattamie Co. Farm Bureau and serves school districts in those counties. The mission of Agriculture in the Classroom is to "increase agricultural literacy through PK-12 education." An agriculturally literate person is "one who understands and can communicate the source and value of agriculture as it affects quality of life." AITC programs seek to improve student achievement by applying authentic, agricultural-based content as the context to teach core curriculum concepts in science, social studies, language arts and nutrition. By embedding agriculture into curriculum, AITC cultivates an understanding and appreciation of the food and fiber system that we rely on every day. AITC is unique within the agricultural education community as the lead organization to serve the full spectrum of PK-12 formal education.  For more information visit IALF online at www.IowaAgLiteracy.org, on Facebook, and Twitter.

About Corteva Agriscience
Corteva Agriscience is a publicly traded, global pure-play agriculture company that provides farmers around the world with the most complete portfolio in the industry - including a balanced and diverse mix of seed, crop protection and digital solutions focused on maximizing productivity to enhance yield and profitability. With some of the most recognized brands in agriculture and an industry-leading product and technology pipeline well positioned to drive growth, the company is committed to working with stakeholders throughout the food system as it fulfills its promise to enrich the lives of those who produce and those who consume, ensuring progress for generations to come. Corteva Agriscience became an independent public company on June 1, 2019 and was previously the Agriculture Division of DowDuPont. More information can be found at www.corteva.com.
Follow Corteva Agriscience on Facebook, Instagram, LinkedIn, Twitter and YouTube.