Loess Hills Agriculture in the Classroom Celebrates Two Years of Programming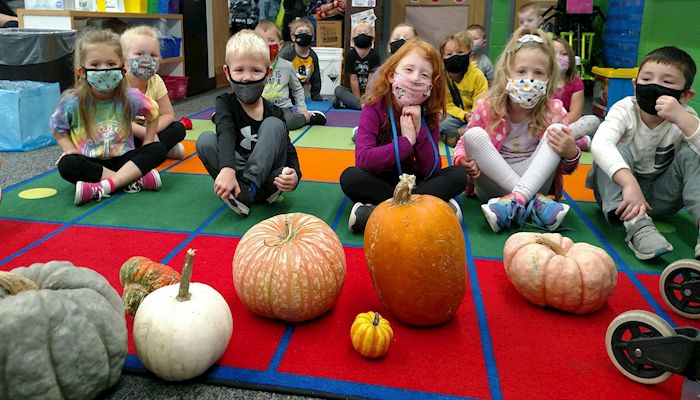 Harlan, Iowa, – October 29th, 2020 – In August of 2018, five county Farm Bureaus coordinated their Agriculture in the Classroom efforts with the Iowa Agriculture Literacy Foundation. Loess Hills Agriculture in the Classroom would work with teachers and support students in 21 school districts learning about agriculture. Teachers in Carroll Co., Crawford Co., Harrison Co., Shelby Co., and West Pottawattamie Co. would have access to a dedicated coordinator who was available to visit PreK – 12th grade classrooms.
Lynn Stamp, Harrison County Farm Bureau, said, "People are all about agriculture and kids. Loess Hills Agriculture in the Classroom, it's a big deal!"
The program has grown and attracted support from 35 additional organizations who believe in the purpose and vision. Individuals too have donated funds to join in and support the mission of Agriculture in the Classroom which is to "increase agricultural literacy through PreK-12 education."
"Helping organize Loess Hills Agriculture in the Classroom is one of the things I am most proud of in the more than 20 years that I have been with the Farm Bureau." says Mike Fara, Shelby County Farm Bureau.
"It's difficult to summarize the results of these past two years," says Melanie Bruck, education program coordinator for Loess Hills Agriculture in the Classroom. "While agriculture literacy can be measured with students using assessments, sometimes the number of impressions we have made, and the excitement of the students better defines the impact" says Bruck.
More than 10,000 students have been impacted! An additional 931 teachers have had access to resources that teach agriculture and support core learning standards. Parents, grandparents, and other community members have also seen benefit with more than 2,000 individuals participating in programs. In total, 13,500 individuals have had the opportunity to learn about agriculture with Loess Hills Agriculture in the Classroom.
Thanks to the leadership of the five county Farm Bureau organizations and the generous contributions of likeminded supporters, Bruck will continue to deliver high quality programming to students and support their teachers with other resources. Examples of her work can be seen in her hauling totes of pumpkins up the stairs for Kindergarten lessons in Irwin, researching animal geneticists with high school students in Manning, and conducting a virtual presentation for 7th grade Family Consumer Science students in Denison.
Bruck said, "I'm excited to see what the next two years will bring!"
For more information, please visit www.IowaAgLiteracy.org.
About Loess Hills Agriculture in the Classroom
Loess Hills Agriculture in the Classroom (LHAITC) is a regional effort of the Iowa Agriculture Literacy Foundation (IALF). The inception of LHAITC was led by Carroll Co. Farm Bureau, Crawford Co. Farm Bureau, Harrison Co. Farm Bureau, Shelby Co. Farm Bureau, and West Pottawattamie Co. Farm Bureau and serves school districts in those counties. The mission of Agriculture in the Classroom is to "increase agricultural literacy through PK-12 education." An agriculturally literate person is "one who understands and can communicate the source and value of agriculture as it affects quality of life." AITC programs seek to improve student achievement by applying authentic, agricultural-based content as the context to teach core curriculum concepts in science, social studies, language arts and nutrition. By embedding agriculture into curriculum, AITC cultivates an understanding and appreciation of the food and fiber system that we rely on every day. AITC is unique within the agricultural education community as the lead organization to serve the full spectrum of PK-12 formal education. For more information visit IALF online at www.IowaAgLiteracy.org, on Facebook, and Twitter