Local Coordinator Presents at National Conference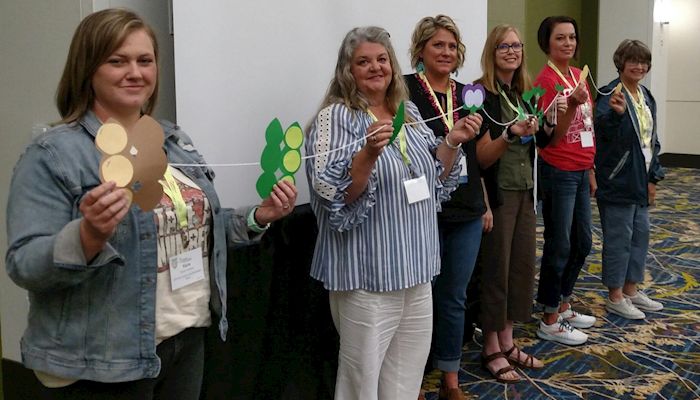 Des Moines, Iowa – June 29, 2021 – Fields of Dreams was the theme of this year's National Agriculture in the Classroom (NAITC) conference which was hosted in Iowa. Presenting at a national conference was a like dream come true for Loess Hills Agriculture in the Classroom (LHAITC) education program coordinator, Melanie Bruck. Bruck was selected to present at the 2020 conference, however an in person gathering of teachers and coordinators from all 50 states was not possible, due to travel restrictions.
"I never imagined volunteering in a PreK classroom over 12 years ago would lead to being a presenter at a national workshop," said Bruck. "And being able talk to teachers, educating them about an important Iowa commodity like soybeans, was something I've always wanted to do."
Bruck was an unlikely ambassador of agricultural literacy, having grown up in the city (and having no idea what a soybean field even looked like.) But thanks to attending a learning conference hosted by the Iowa Agriculture Literacy Foundation (IALF) in 2016, Bruck gained access to resources and made connections with other coordinators that would help her turn a PreK show-and-tell into a regional effort covering five counties. Bruck lives on a farm with her family which has given her firsthand knowledge and in 2018 was hired on by IALF to lead the Loess Hills Agriculture in the Classroom efforts.
"Being able to educate others about agriculture is such a rewarding experience," said Bruck. "And now, teachers who attended my workshop, can take what I have learned and present it to THEIR students!"
The workshop titled Soybeans, Fueling American Agriculture (3rd – 8th grade) included exploration of a mature soybean plant. Plants are still developing in June in Iowa and don't have fully mature seed pods. So Bruck planned ahead and stored some in her basement that she had harvested last October. Participants used a soybean life cycle model to illustrate how a soybean goes from seed to sprout, from plant to flower, and from pod to harvest. Each participant created their own seed germination necklaces using soybean seeds. Participants had the opportunity to harvest their own seed from a pod, similar to how a combine separates the seed from the pod. When Bruck presents this lesson in person to 4th grade students she has them do this same activity. Workshop participants also dissected a 10-day old soybean sprout which were grown in one of Bruck's classroom greenhouse. She lends these greenhouses to teachers each year to enable individual classrooms the opportunity to watch a soybean plant grow.
Resources and lessons on careers in biofuel were reviewed during this workshop as well. Soybeans can be used to produce biofuels – specifically biodiesel. Mechanics, chemical engineers, and gas station managers are just some of the careers that showcase the variety of jobs required for successful and efficient production of biofuel, from farm to vehicle. Attendees were directed to the IALF website and the Agricultural Literacy Curriculum Matrix so they could explore hundreds of lesson plans that help teachers reach science and social studies standards.
With her first national conference presentation under her belt, Bruck is already thinking ahead to next year and considering what agricultural resources that she'd like to share if the opportunity arises.
Next year's conference is being held in Saratoga Springs, New York from June 28 to July 1, 2022.
For more information, please visit www.IowaAgLiteracy.org.
About Loess Hills Agriculture in the Classroom
Loess Hills Agriculture in the Classroom (LHAITC) is a regional effort of the Iowa Agriculture Literacy Foundation (IALF). The inception of LHAITC was led by Carroll Co. Farm Bureau, Crawford Co. Farm Bureau, Harrison Co. Farm Bureau, Shelby Co. Farm Bureau, and West Pottawattamie Co. Farm Bureau and serves school districts in those counties. The mission of Agriculture in the Classroom is to "increase agricultural literacy through PK-12 education." An agriculturally literate person is "one who understands and can communicate the source and value of agriculture as it affects quality of life." AITC programs seek to improve student achievement by applying authentic, agricultural-based content as the context to teach core curriculum concepts in science, social studies, language arts and nutrition. By embedding agriculture into curriculum, AITC cultivates an understanding and appreciation of the food and fiber system that we rely on every day. AITC is unique within the agricultural education community as the lead organization to serve the full spectrum of PK-12 formal education. For more information visit IALF online at www.IowaAgLiteracy.org, on Facebook, and Twitter.