Des Moines Teacher Recognized for Excellence in Teaching about Agriculture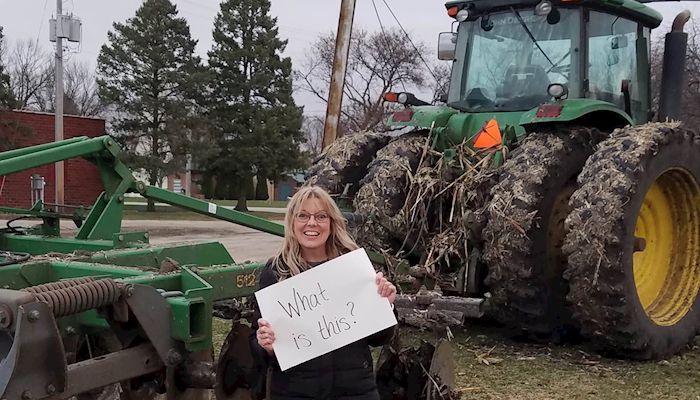 West Des Moines, Iowa – December 15, 2020–Rhonda Osborn, a fourth-grade teacher from Des Moines, Iowa is the recipient of the Iowa Excellence in Teaching about Agriculture award presented by the Iowa Agriculture Literacy Foundation. Osborn competed against other elementary, middle, and high school teachers to earn the honor. She was recognized at a ceremony at the Iowa Agriculture Literacy Foundation board of directors meeting held virtually on December 15, 2020.

Osborn has designed and developed agricultural units and taught them with her literacy program. Her work involves researching the subjects, creating lesson plans, designing stem projects to go with each unit, applying for grants, scheduling live farm chats, and finding other teaching materials. Her students study careers with their corn unit and compare and contrast field corn, sweet corn, and popcorn. Her soybeans unit looks at the lifecycle of the plant and researches technologies used on the farm. Her beef unit identifies cuts of beef and learning vocabulary like heifer, cow, bull, and steer. Her turkey unit compares wild and domesticated turkeys and maintaining healthy environments in turkey barns.

"Teaching agriculture is exciting for the students to learn, fun to teach, and most importantly, it instills a passion for agriculture in each of the students," said Osborn. "Students need to connect agriculture to their lives and know the important role it plays in each of our lives.

Osborn also integrates agriculture into her STEM activities. Her classes grow salads, create presentations on corn, celebrate agriculture by dressing up like a farmer, and designing farm machinery with Legos. Students learn how to best care for plants and have taken virtual field trips to farms. Her students have competed in beef and turkey marketing contests and understand how to track cattle with brands and other tracking methods. She keeps learning fun with bobbing for apples activities and integrating technology in her lessons.

Osborn will receive a $500 stipend to support her continued efforts of integrating agriculture into her classroom curriculum. She hopes to expand her teaching efforts with literacy and informational text activities. She will also attend the National Agriculture in the Classroom conference to be held in Des Moines, Iowa in June 2021.

Osborn is in her 16th year of teaching at Des Moines Christian School. She earned her degree from Northwest Missouri State University. She has been a recipient of the Agriculture in the Classroom Teacher Supplement Grant as well as other grants. She has previously been honored as the Des Moines Christian School elementary teacher of the year.

Karla Lowe is the elementary principal at Des Moines Christian School, and she said, "When DMCS transitioned to distance learning last spring, Mrs. Osborn often recorded her morning message sitting on a tractor or from a corn field." Lowe went on to say, "Mrs. Osborn is a very creative teacher who enjoys teaching her students about the agricultural industry."

The runner-up for the award was kindergarten teacher, Yvonne Gaul, from Shelby County Catholic School in Harlan, Iowa. Gaul will also be able to attend the National Agriculture in the Classroom conference having her registration fees covered for her exceptional application. Gaul has integrated agriculture into her classroom through learning about lifecycles of farm animals and about crops grown on farms. Her students plan and maintain container gardens every year.

"I feel it is important that my students understand the impact agriculture has on their daily lives," said Gaul. "My hope is to increase students' knowledge and interest in agriculture and give them experiences that may influence their career paths in the future."