Carroll Co. Farm Bureau Donated $10,000 to Loess Hills Agriculture in the Classroom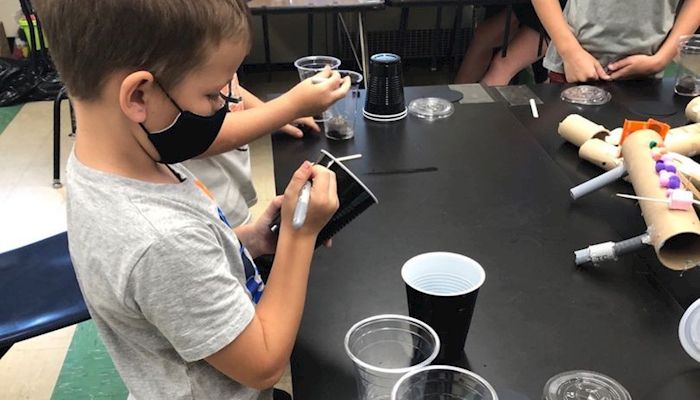 Harlan, Iowa, – April 5, 2021 – Members of the Carroll Co. Farm Bureau approved a $10,000 donation to Loess Hills Agriculture in the Classroom (LHAITC) to support in-classroom programming, educational support, and teacher professional development. Carroll Co. Farm Bureau has supported LHAITC since it was organized in 2018.
Carroll Co. Farm Bureau focuses on helping farm families prosper. Helping students learn about where their food comes from and how it is raised on the farm aligns to their mission of creating a vibrant future for agriculture, farm families, and their communities. Carroll County Schools that the LHAITC program works with include the Carroll Community School District, Kuemper Catholic School District, Coon Rapids-Bayard Community School District, Glidden-Ralston Community School District, and the IKM-Manning Community School District.
"Even though we live in Iowa and we are right in the middle of the agriculture sector, farmers comprise only a small percentage of the population," said Brian Hoffman Carroll Co. Farm Bureau president. "Farm Bureau feels it is important to educate the remainder of the population, especially school aged children about how farms work, where their food comes from, and how it is produced."
Fourth and fifth grade students have learned about aquaponics and plant growth and structure through Agriculture in the Classroom kits. Lessons have been completed with individual kits and the students will also have the chance to tour a farm, virtually, during the 2021 planting season. The FarmChat® virtual program will be conducted using an online connection from the Bruck Farm to the classroom in Manning.
"I personally think that farming has so much STEM (science, technology, engineering, and math) in it that we need to get young minds involved. It starts with a spark of interest," said Tony Eickman, Carrol Co. Farm Bureau board member. "That spark may come from making Cover Crop Monsters, incubating [and hatching] eggs, growing soybeans, or any other curriculum that teaches agriculture in the classroom. I firmly believe that people don't realize the science, technology, engineering, and math involved in farming to raise a better crop."
Both Hoffman and Eickman have taken a hands-on approach to helping educate students during STEM festivals held pre-pandemic. By helping young learners fill nylons with rye seeds and soil they were able to engage them in a discussion about cover crops and how farmers work hard to keep the soil in the fields. The participants created their own Cover Crop Monster to take home and to take care of, giving it water and sunlight in order to grow. Rye is a common cover crop and the Cover Crop Monsters illustrate how quickly the plants can grow and begin to hold the soil in place to prevent erosion.
"The members of the Carroll Co. Farm Bureau have helped this program in many ways," said Melanie Bruck, education program coordinator for Loess Hills Agriculture in the Classroom. "Participating in quarterly advisory council meetings, helping out at STEM festivals, and even contributing as individual donors supporting the program financially shows the dedication they have towards making this program a success."
As part of this past year's programming, LHAITC conducted 177 programs which had an impact on 3,423 students – 901 of those from school districts in Carroll Co. Virtual programs were also conducted and reached nearly 10,000 viewers. Agriculture in the Classroom strives to increase agricultural literacy through Pre-K-12 education. An agriculturally literate person is defined as one who understands and can communicate the source and value of agriculture as it affects quality of life. LHAITC programs seek to improve student achievement by applying authentic, agricultural-based content as the context to teach core curriculum concepts in science, social studies, language arts and nutrition. By embedding agriculture into curriculum, LHAITC cultivates an understanding and appreciation of the food and fiber system that we rely on every day.
For more information, please visit www.IowaAgLiteracy.org.
About Loess Hills Agriculture in the Classroom
Loess Hills Agriculture in the Classroom (LHAITC) is a regional effort of the Iowa Agriculture Literacy Foundation (IALF). The inception of LHAITC was led by Carroll Co. Farm Bureau, Crawford Co. Farm Bureau, Harrison Co. Farm Bureau, Shelby Co. Farm Bureau, and West Pottawattamie Co. Farm Bureau and serves school districts in those counties. The mission of Agriculture in the Classroom is to "increase agricultural literacy through PK-12 education.". AITC is unique within the agricultural education community as the lead organization to serve the full spectrum of PK-12 formal education. For more information visit IALF online at www.IowaAgLiteracy.org, on Facebook, and Twitter.