Caring for Animals on the Farm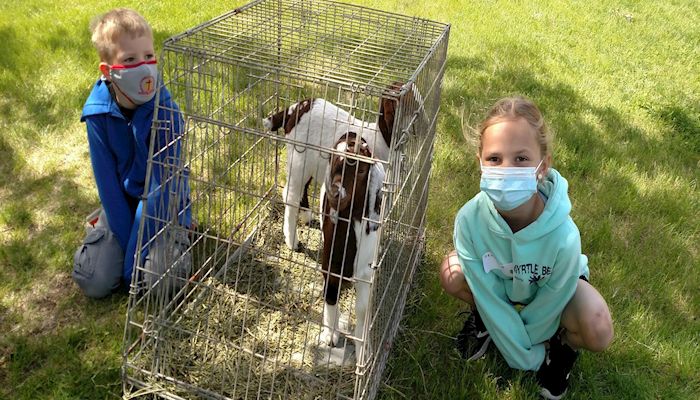 Harlan, Iowa – May 7, 2021 – Students at the Shelby Co. Catholic School took a walking field trip on Friday. On the field trip they met Melanie Bruck, education program coordinator for Loess Hills Agriculture in the Classroom. Bruck had with her four baby chicks (which were part of the school's hatch program and had hatched the week before), two baby goats, a Border Collie, and one bottle calf.
"You should have seen the children's faces when I told them Mrs. Bruck was coming back with animals from her farm," said Holli Plambeck, first grade teacher at Shelby Co. Catholic School.
"Their eyes were huge, and you could tell they were excited."
Since the class was unable to take their usual field trip to the zoo, Bruck brought the "zoo" to them. They discussed animal safety on the farm. Students learned that diseases can be spread from animal to animal or from animal to human and that it is so important to wash hands after handling animals. They also talked about safely standing in front and to the side of animals like bottle calves, so they would not get kicked.
"See where their eyes are?" asked Bruck. "When the eyes of an animal are on the side of its head, you need to be standing somewhere it can see you, so it is not frightened."
Both of the baby goats and the bottle calf needed to be fed the morning of the walking field trip. Bruck brought milk replacer, bottles, warm water, a big bowl, and a whisk to show students how farmers mix up food for animals that are not being taken care of by their mothers. Both the goats and the calf drink bottles twice a day. The calf drinks out of a much larger bottle than the goats.
The students also learned a song about baby animals. Bruck would sing, "A baby cow is a…" and wait for the students to say "calf" as she held up cards with pictures of each animal – and its animal baby.
Lastly, the cattle dog demonstrated her good listening skills and "herded" the first graders in a circle while they pretended to be cows roaming around the grasslands. The dog has been trained to "sit", "stay", and "come to" on command. She helps the Bruck family as they work cattle on their own farm in Harrison Co.
After an hour of activities, the students were ready for lunch. They said goodbye to the animals and stood next to their favorite one. The animals were in crates when they were not under the direct control of Bruck. The students had one final lesson about how gates keep animals and people safe.
For more information, please visit www.IowaAgLiteracy.org.
About Loess Hills Agriculture in the Classroom
Loess Hills Agriculture in the Classroom (LHAITC) is a regional effort of the Iowa Agriculture Literacy Foundation (IALF). The inception of LHAITC was led by Carroll Co. Farm Bureau, Crawford Co. Farm Bureau, Harrison Co. Farm Bureau, Shelby Co. Farm Bureau, and West Pottawattamie Co. Farm Bureau and serves school districts in those counties. The mission of Agriculture in the Classroom is to "increase agricultural literacy through PK-12 education." An agriculturally literate person is "one who understands and can communicate the source and value of agriculture as it affects quality of life." AITC programs seek to improve student achievement by applying authentic, agricultural-based content as the context to teach core curriculum concepts in science, social studies, language arts and nutrition. By embedding agriculture into curriculum, AITC cultivates an understanding and appreciation of the food and fiber system that we rely on every day. AITC is unique within the agricultural education community as the lead organization to serve the full spectrum of PK-12 formal education. For more information visit IALF online at www.IowaAgLiteracy.org, on Facebook, and Twitter.