All About Pumpkins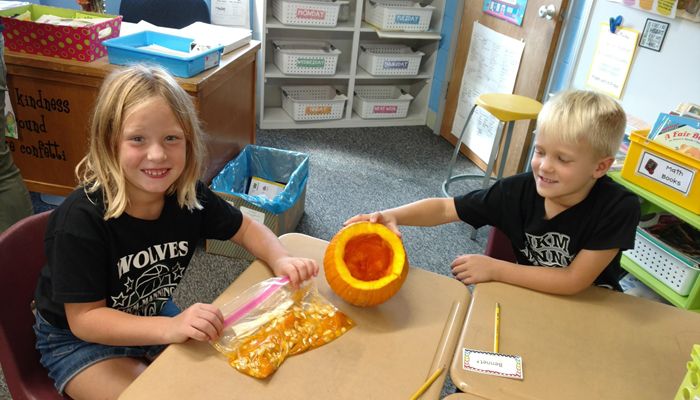 Manning, Iowa – October 26, 2021 – Elementary students in IKM-Manning Community School District received lessons on agriculture using seasonally appropriate pumpkins as the example. Classes explored pumpkins both inside and out. A deconstructed pumpkin was brought in as an example. The pumpkin was already carved, the seeds were removed and roasted, and slimy insides were secured in a plastic bag. This made exploring a pumpkin much neater for the many hands of the curious elementary students.
Melanie Bruck, of Loess Hills Agriculture in the Classroom, brought resources to the classrooms for this seasonal agriculture lesson. She displayed pictures of different sized pumpkins from very small to very large. The pumpkin varieties were different in size, shape, color, and even taste. Students were surprised to learn that the Fairy Tale pumpkin variety has a slightly spicy taste, good for pumpkin pie and also good for soups and stews. The Atlantic Giant pumpkin variety grows to over 200 pounds. Students stretched their arms out wide to help imagine how big that pumpkin could grow.
Bruck discussed the parts of the pumpkin, the stem, the rind, the seeds, and the flesh of the pumpkin. The students learned the stem was spikey to help keep bugs from chewing on it. They learned that the rind was hard to protect the interior flesh of the pumpkin. They learned that the inside of the pumpkin has many, many strings or strands that connect to each individual seed. These vascular strands give the seeds nutrients as they continue to develop inside the pumpkin. Lastly, students were taught that the pumpkin flesh could be cooked, pureed, and turned into things like pumpkin pie.
IKM-Manning students weren't the only ones to learn about pumpkins from Bruck. The fourth-grade classes in Underwood Community School District also learned about these amazing fruits and had a hands-on experience when they made pumpkin pie in a bag. Students from the Logan-Magnolia Community School District and the Norelius Community Library afterschool program also received lessons on pumpkins.
"Do you believe this pumpkin came from a flower?" asked Bruck, as she showed them the bottom of a real pumpkin where the flower would have been, beginning way back in the spring.
Seed packets for the Jack-O-Lantern pumpkin variety were passed around and Bruck encouraged the students to look on the packet to find the number of days it took for that pumpkin to be ready for harvest. Students found the answer, 110 days or "practically the whole summer," as one student pointed out. 
Bruck explained that to grow, a pumpkin needs the right amount of space and seeds need to be planted 10 to 15 feet apart. Bruck explained how many seeds can come from one pumpkin and they can be eaten, left for wildlife, or even used to plant pumpkins the next year. Each student got a chance to try a roasted pumpkin seed. 
"Iowa's largest crops are corn and soybeans," said Bruck "but because of our rich soil and warm summer growing season, farmers can grow pumpkins and many other crops and sell them right from the farm as a form of agrotourism."
The students then shared their stories of visiting pumpkin patches and what kind of pumpkins they have seen this fall. Many wanted to take home seeds so they could sprout their own pumpkins, even though they'll need to wait until spring. 
For more information, please visit www.IowaAgLiteracy.org. 
About Loess Hills Agriculture in the Classroom
Loess Hills Agriculture in the Classroom is a regional effort between the Iowa Agriculture Literacy Foundation (IALF) and county Farm Bureau offices established August of 2018. It serves school districts in five counties in southwest Iowa including Carroll Co., Crawford Co., Harrison Co., Shelby Co., and West Pottawattamie Co. The IALF mission is to educate Iowans, with a focus on youth, regarding the breadth and global significance of agriculture. IALF serves as a central resource for educators and volunteers who want to teach Iowa's students about agriculture. As leading producer of agricultural products, it is important for all Iowans to understand the essential role agriculture has in their lives. The mission of Agriculture in the Classroom is to "increase agricultural literacy through PK-12 education." An agriculturally literate person is "one who understands and can communicate the source and value of agriculture as it affects quality of life." AITC programs seek to improve student achievement by applying authentic, agricultural-based content as the context to teach core curriculum concepts in science, social studies, language arts and nutrition. By embedding agriculture into curriculum, AITC cultivates an understanding and appreciation of the food and fiber system that we rely on every day. AITC is unique within the agricultural education community as the lead organization to serve the full spectrum of PK-12 formal education. For more information visit IALF online at www.IowaAgLiteracy.org, on Facebook, and Twitter.