Agriculture Virtual STEM Fest Offered to Iowa Students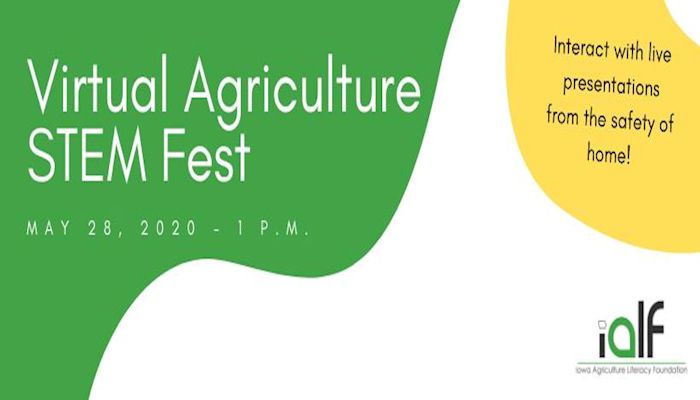 WEST DES MOINES, Iowa – May 21, 2020 – Iowa students are invited to a free, live, virtual STEM festival from their home to finish out the school year. Hosted by the Iowa Agriculture Literacy Foundation, the virtual STEM festival will focus on agriculture and the food system.

The Virtual Agriculture STEM Fest will be held Thursday, May 28 beginning at 1 p.m. New live presentations will begin every 10 minutes. All PK-12 students and their families are welcome to tune in for all or part of the STEM festival and participate.

Presentations will include the following topics: soil chemistry, DNA extraction, fruit and vegetable density, agricultural trivia, and shell-less bouncy eggs, among other topics. Presenters are from around the state of Iowa and include both in-classroom teachers and agriculture literacy professionals.

To view the Virtual Agriculture STEM Fest, join the Facebook group for the event at: https://www.facebook.com/groups/VirtualAgSTEMFest/.

"During the school closures, we offered many virtual learning resources that were well received," said Will Fett, executive director of the Iowa Agriculture Literacy Foundation (IALF). "We thought hosting this virtual STEM festival would be a great way for Iowa schools to close out their year and enjoy learning about agriculture as well."