A Bushel of Stories Writing Contest to Inspire Student Authors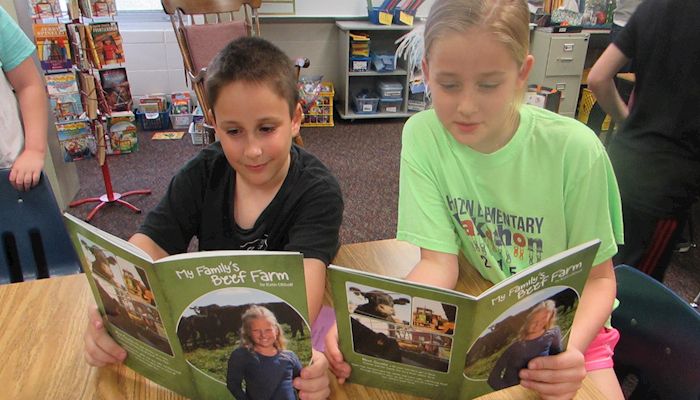 West Des Moines, Iowa – January 8, 2021–A Bushel of Stories is a new agriculture writing contest for Iowa students in grades 3-8 organized by the Iowa Agriculture Literacy Foundation. Students are challenged to write a story book about agriculture or food. Student entries will be judged, and the winning submissions will be published.

There are two age divisions, one for students in grades 3-5 and one for students in grades 6-8. Prizes include cash prizes, award plaques, and certificates. The winner in each division will have their final work published. There are three sequential lessons provided to help educators walk their students through the writing process. Lessons are available for a formal in person classroom and also adapted to a virtual learning environment.

The educator resources that support the contest teach the basics of books, the process of publication, and the writing process. Students will learn features of books including authors, illustrators, fiction vs nonfiction, writing perspectives, the purpose of a story, and will analyze these features in agricultural books. Students will learn about how books are written and produced, from the author's idea to the library. Students will learn writing skills and practice them by creating their own fiction or non-fiction story about agriculture or food production.

"There is not a wide variety or supply of books that accurately feature agriculture and tell the story of modern food," said Will Fett, executive director of the Iowa Agriculture Literacy Foundation. "This contest will help students developing their writing skills and also help them learn about agriculture."

The contest opened in January 2021 and the deadline for student submissions is March 1. Student winners will be recognized during National Agriculture Week - March 21-27, 2021. Winners in each division will have their book illustrated and made available to educators. Winners will receive a cash prize of up to $100. Both the student and their teacher will receive recognition for the winning entry.

The Bushel of Stories student writing competition is funded in part by a Fire-Up Grant from the National Agriculture in the Classroom Organization. The purpose of this grant program is to strengthen state programs by funding innovative ideas and proven outreach strategies to increase agricultural literacy among Pre-K-12 teachers and their students.

"This is an engaging and relevant project," said one of the grant reviewers. "It is very replicable for other state Agriculture in the Classroom programs. The writing component should be very intriguing and useful for teachers."

To learn more and help students participate in A Bushel of Stories writing contest, visit IowaAgLiteracy.org.