2020 Partnership Hopes to Advance Student Led Research in Pork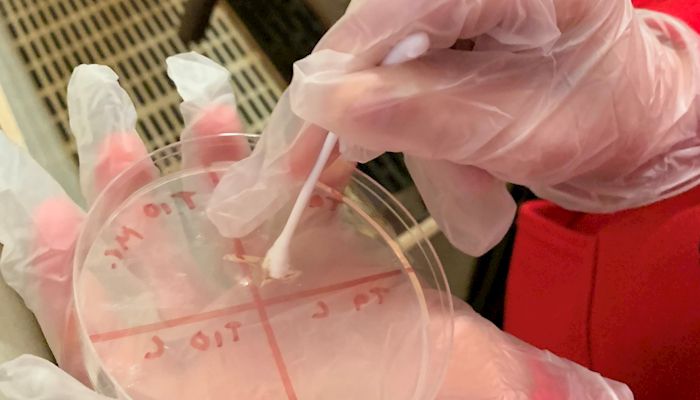 Des Moines, Iowa – October 16, 2020– The Iowa Agriculture Literacy Foundation and the Iowa Pork Producers Association are announcing a second year of the program to encourage more students to get involved in swine and pork science research. Iowa students who complete and conduct a science experiment that is related to pigs, pork, pig production, swine care, or in a related subject area will be eligible to receive a $200 scholarship.
Today's pig farmers and pork producers use a lot of science to determine how to best raise their animals. Good science can help propel the industry forward and allow pork and pork by-products to continue to be an important part of the food supply and agricultural industry. Iowa ranks #1 in pork production.
"We are excited to offer this research opportunity to students," said Joyce Hoppes of the Iowa Pork Producers Association. "Our industry relies on science for advancement in animal care and product improvements."
The scholarship can assist students in the development of a project, be used to purchase supplies for their experiments, or purchase supplies for the presentation of the project. The funds can also be used to help fund travel to any of the four science fairs and symposiums hosted in Iowa including: the Junior Science & Humanities Symposium (March 1-2, 2021 online); the Western Iowa Science and Engineering Fair (online); the Eastern Iowa Science and Engineering Fair (March 20, 2021 in Cedar Rapids, IA); or the State Science and Technology Fair of Iowa (March 25-26, 2021 in Ames, IA).
"Students can complete a research project in any of the more than 70 categories," said Iowa Agriculture Literacy Foundation executive director, Will Fett. "There are so many interesting connections between pork and science that students can explore. Everything from biomedical and health sciences to mathematics and microbiology can relate to pork and swine."
Ten students (grades 6-12) will be selected to receive the scholarship. The deadline to apply for the scholarship will be January 29, 2021. Students selected to receive the scholarship and their teacher or sponsor will be contacted by February 1, 2021.
For more information about this activity or other education activities please contact the Iowa Agriculture Literacy Foundation at info@iowaagliteracy.org. Students can apply for the scholarship and begin their science research by visiting https://form.jotform.com/IowaAgLiteracyFoundation/science-pork-2021.
# # #
About the Iowa Agriculture Literacy Foundation
IALF serves as a central resource for educators and volunteers who want to teach Iowa's students about agriculture. The mission is to educate Iowans, with a focus on youth, regarding the breadth and global significance of agriculture. Iowa is a leading producer of agricultural products that are essential to feed a growing world population, estimated to reach more than 9 billion by 2050. IALF believes it is important for all Iowans to understand the essential role agriculture has in their lives. Through Agriculture in the Classroom efforts IALF engages with teachers and students. IALF is supported by a number of agricultural stakeholders, including the Iowa Corn Growers Association, Iowa Farm Bureau Federation, Iowa Pork Producers Association, CHS Foundation, Corteva Agriscience, Farm Credit Services of America, GROWMARK, the Iowa Beef Industry Council, the Iowa Turkey Federation, and Silos and Smokestacks National Heritage Area. For more information visit IALF online at www.IowaAgLiteracy.org, on Facebook, and Twitter.
About the Iowa Pork Producers Association
The mission of the Iowa Pork Producers Association is promoting, educating and providing a leading voice for a sustainable, socially responsible, and globally competitive pork industry.