142 Grants Awarded to Support Students Learning Agriculture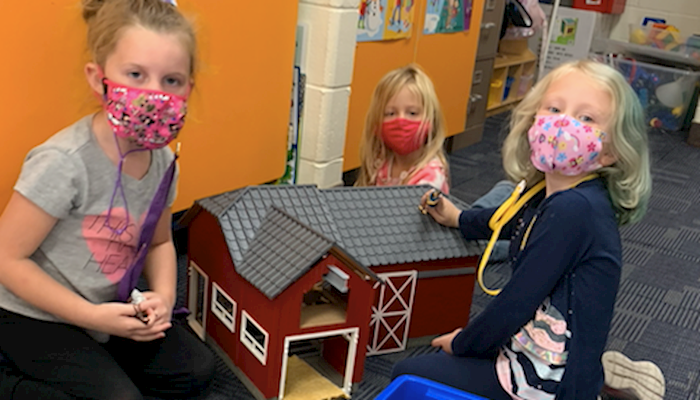 WEST DES MOINES, Iowa – January 29, 2021 – The Iowa Agriculture Literacy Foundation (IALF) has awarded 142 grants to schools throughout Iowa to support the integration of agriculture into classroom instruction or after school programs with an academic focus.
The Agriculture in the Classroom Teacher Supplement Grants are designed to help teachers initiate new projects or expand existing projects that promote agriculture literacy in students. Grants can be used to fund innovative lessons, activities, classroom resources, guest speakers, outreach programs, fieldtrips and other projects.
One grant recipient, Laura Vaughn who will be teaching students about photosynthesis, commented, "Thank you so much. The students will love it and learn so much!"
Some of the innovative applicants will be conducting projects this spring including aquaponics, water quality, farm-to-fork projects, dairy field trips, egg hatching, and agricultural history tours. Successful applicants will use these agricultural experiences to teach language arts, social studies and a variety of other concepts already taught in their classrooms.
"We had very high-quality applications this year involving agriculture in core curriculum in innovative and creative ways," said IALF executive director, Will Fett. "These projects will allow teachers to make learning real and relevant for their students and still align to state educational standards."
The grants are a special project of IALF and made possible through support from the Iowa Farm Bureau Federation with additional support from the Iowa Egg Council.
"We are pleased to provide this support for teachers in their classrooms," said Ronnette Vondrak, Iowa Farm Bureau Federation (IFBF) community resources manager. "Agricultural literacy is an important aspect of the IFBF goal to build understanding of the value of Iowa agriculture."
Upon being informed of the grant award, St. Francis Xavier principal, Peter Smith, said, "Thank you so much for the great news! We appreciate the funding for our program."
The projects will be completed before the end of the school year with final reports submitted by June 7, 2021. For more information, visit www.iowaagliteracy.org. The following are award recipients:
Sarah Allison, Hubbard-Radcliffe Elementary
Ann Andersen, Shelby County Catholic School
Jennifer Arbogast, Douds Elementary
Lezlie Barry, West Central Community School
Dean Behrens, North Cedar Elementary
Erin Bemis, Seeds of Faith Preschool
Jennifer Boswell, Taft Elementary
Amy Boyles, Nixon Elementary
Amanda Brink, Eddyville-Blakesburg-Fremont Jr/Sr High School
Taylor Brittain, Nodaway Valley High School
Elizabeth Burke, Eleanor Roosevelt Middle School
Kirsten Burrett, Carrie Lee Elementary
Annette Butikofer, Fayette Community Library
Ellen Cannon, Midland Elementary
Cathryn Carney, Nevada Middle School
Diane Casey, IKM-Manning
Anyssa Castillo, Boyer Valley Elementary
Lisa Christiansen, Newell-Fonda
Tess Cochran, East Union High School
Mike Cooley, East Union Community High School
Chelsey Cozad, Sidney Elementary School
Beth Cuddeback, Seeds of Faith Early Learning Center
Diana Dahir, Tri-Center High School
Courtney Darrow, Newell-Fonda
Adam Davis, Martensdale-St. Marys
Jennifer DeLaRosa, Carrie Lee Elementary School
Tammy Dillinger, Mayflower Christian School
Ashley Dirks, Albert City-Truesdale Elementary School
Lisa Doering, Alden Elementary
Rebecca Dostal, North Tama
Codie Duhn, Discover Preschool
Amber Evans, Pocahontas Area Elementary
Susie Fah, Tri-Center Elementary
Dena Finer, Hubbell Elementary
Skylynn Fleming, Lake Mills High School
Jordan Fonken, Eagle Grove Elementary
Stacey Galles, MMCRU
Hayle Gaul, Edgewood Colesburg Elementary
Yvonne Gaul, Shelby County Catholic School
Katie Glime, Johnson STEAM Academy
Diane Gnade, Midland Elementary
Alyssa Gorkow, Johnson STEAM Academy
Amy Grantz, Central DeWitt High School
Angela Greiner, Pekin Elementary
Michelle Griffen, Logan-Magnolia Elementary
Elizabeth Hagan, Kuemper Catholic High School
Steven Hameister, Panorama Community Schools
Peggy Hamilton, Fairview Elementary
Kristi Hannemann, Nashua-Plainfield Elementary
Devin Hardin, Cardinal Elementary
Jamie Haugen, Alta-Aurelia Community Schools
Susan Heilig, Calamus Wheatland Elementary School
Logan Henry, Clarinda Middle/High School
Susan Hess, Newell-Fonda School
Beth Hodges, Oskaloosa Elementary
Adrianna Huff, Edgewood-Colesburg Elementary
Judy Jacobsen, IKM-Manning CSD
Melissa James, Center Point - Urbana High School
Katie Johnsen, Logan-Magnolia Elementary
Miranda Johnson, North Mahaska Community School District
Melissa Kaub, Denison Middle School
Christine Kennedy, Seeds of Faith Early Learning Center
Gretchen Kingland, Lake Mills Elementary
Barb Klein, Resurrection Elementary
Marcy Klein, Carrie Lee Elementary
Lindsey Kleinheksel, Denver Elementary
Karen Klotzbach, Carrie Lee Elementary
Megan Kramer, MMCRU
Nancy Kriener, Spirit Lake Elementary School
Kristie Kuhse, Waverly-Shell Rock Middle School
Emily Kullen, West Union Elementary
Sara Lehr, Central City Community School District
Jennifer Linde, IKM-Manning Middle School
Lorine Linde, IKM-Manning Community Schools
Maria Lunders, Seeds of Faith ELC
Janet Mack, Seeds of Faith Early Learning Center
Amy Madsen, Carroll Middle School
Susan Maitlen, Mayflower School
Melanie Marreel, Clear Creek Elementary
Brady Martin, East Union
Melissa Marwedel, Valerius Elementary School
Wendy Matson, Tri-Center Elementary
Whitney McKeever, Newell-Fonda
Josie McMinemee, Tri-Center
Rebecca Menard, Williams Junior High School
Spencer Mesick, Bettendorf High School
Julie Messer, Mediapolis Middle School
Taylor Mikels, Logan-Magnoia Elementary
Rebecca Milum, Roosevelt Middle School
Karen Moeller, Prince of Peace Catholic School
Cassi Montandon, Wapello Jr/Sr High
Tom Murray, North Linn High School
Tara Norman, Clarke Community Elementary
Katie Pacza, Ridge View High School
Jackie Panos, Carrie Lee Elementary
Angela Pape, MFLMarMac
Lacey Peters, South Side Elementary
Rachel Popken, Hawarden Elementary
Donna Ramsey, East Union Elementary School
Katherine Reckling, Wilson Middle School
John Reicks, Turkey Valley Elementary
Lisa Reinier, Eddyville-Blakesburg-Fremont Junior/Senior High School
Molly Reisz, Denison Middle School
Kate Reuter, MMCRU Royals
Kelli Rozendaal, Johnson STEAM Academy
Jennifer Schlader, Kittrell Early Childhood Center
Donita Schmitz, Elk Run Preschool
Angie Schnepf, MMCRU Marcus
Korrin Schriver, Wahlert Catholic High School
Samantha Schroeder, MMCRU High School
Courtney Schulte, Seeds of Faith
Melissa Sendt, Eleanor Roosevelt Middle School
Amanda Seuntjens, MMCRU elementary
Denise Shekleton, Crestwood Elementary/Junior High
Julie Sievers, Newell-Fonda
Nicole Smith, Saint Patrick's Catholic School
Taylor Smith, Elma Early Childhood Center
Cindy Snell, Waukee APEX
Kristina Snyder, St. Francis Xavier School
Angela Sohn, Spirit Lake Community School
Rosa Sondag, Central Decatur Community School
Rebekah Spragg, Albert City-Truesdale
Kathy Stipe, Kuemper Catholic Junior High
Jessica Studebaker, Wapsie Valley Elementary
Doug Stueven, Spirit Lake Elementary
Brad Taylor, Roland-Story
Linda Tegeler, Ed-Co
Ryan Thole, Hubbell Elementary
Stefanie Throndson, New Hampton School District
Neal VanErsvelde, BGM
Amanda Vardaman, Clarinda Community Schools
Laura Vaughn, Coon Rapids-Bayard Community School District
Julie Voss, Resurrection Elementary
Catherine Wedemeier, Wings Park Elementary
Sarah Wille, MFL MarMac High School
Vicki Winterliin, Westwood Community School
Beverly Wolterman, IKM - Manning
Jennifer Wrage, Gladbrook-Reinbeck Elementary School
Timi Wunschel, OABCIG Elementary-Ida Grove
Rebecca Young, Alden Elementary
Michelle Zimmerman, Seeds of Faith Early Learning Center
Andrew Zinn, Davenport West